Shattered City: The Halifax Explosion
(2003)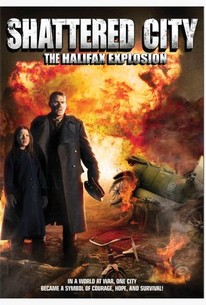 AUDIENCE SCORE
Critic Consensus: No consensus yet.
Shattered City: The Halifax Explosion Photos
Movie Info
Told from the perspective of a family who witnessed the historic tragedy firsthand, director Bruce Pittman's painstakingly detailed docudrama follows the events that unfolded in 1917 when a French freighter loaded with explosives collided with a Belgian reef ship in Halifax, Nova Scotia. The world was consumed by war, and as the French freighter Mont Blanc raced across the Canadian countryside with a substantial shipment of TNT no one could have foreseen the disaster that was about to unfold. When the Mont Blanc collided with the Belgian reef ship, the explosion that erupted claimed nearly 2000 lives, and could be felt over a hundred miles away. The devastation itself spread for miles in every direction, destroying homes, claiming lives, and prompting a courageous rescue mission that would highlight the remarkable heroism of everyday Canadians. Shauna MacDonald, Graham Greene, and Pete Postlewaite star.
Critic Reviews for Shattered City: The Halifax Explosion
There are no critic reviews yet for Shattered City: The Halifax Explosion. Keep checking Rotten Tomatoes for updates!
Audience Reviews for Shattered City: The Halifax Explosion
Shattered City is a dramatized made for TV drama about the Halifax Explosion that occurred in 1917. The film uses a fictionalized aspect to tell this famous Canadian tragedy, and in doing so, it's lacking in trying to tell a good story, set against the 1917 tragedy. The story is decent, but it feels formulaic, and it's the standard plotline for a made for TV affair. The cast do a good job, but overall it does leave a lot to be desired. As a big history buff, I was heavily interested in the tragedy, and was unable to find an in depth documentary on the subject, so I decided to see this instead. Although the film tries to use a made up story to tell of its factual tragedy, this is worth seeing in order to spark interest in the subject, however it only serves as that. The film is entertaining for what it is, but it should have been much better due to the fact that the subject is captivating. The Halifax Explosion was the biggest recorded explosion before the atomic bomb, and the devastation was outstanding. Half of the city was destroyed and the explosions could be heard from miles away. Shattered City is good for what it tries to accomplish, but it never is a great film, and it suffers at times. Shattered City is good for what its, but it does fall short in some areas because the filmmakers added to much fiction an already interesting subject. For a made for TV film, Shattered City is entertaining, but if you're looking for a factual film, you'll be disappointed as this one has fiction mixed with facts to make it more appealing for viewers. Enjoyable, but it is a flawed film that could be done better by staying true to the facts.
Shattered City: The Halifax Explosion Quotes
There are no approved quotes yet for this movie.