Shattered Glass
(2003)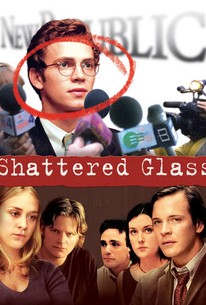 Movie Info
The true story of journalist Stephen Glass, the twenty-something whiz kid who quickly rose from a minor writing post in Washington, to a feature writer in such publications as Rolling Stone and the New Republic. By the mid-90s, Glass' articles had turned him into one of the most sought-after young journalists in Washington--until a bizarre chain of events suddenly stopped his career dead in its tracks.
Critic Reviews for Shattered Glass
Audience Reviews for Shattered Glass
½
"Read between the lies." The true story of a young journalist who fell from grace when it was found he had fabricated over half of his articles.
REVIEW
A fascinating glimpse into the brain of a sociopath, all the more interesting as it's based on real events from 1997. Christensen has the lead role as the so-called journalist Glass, a far cry from his Anakin character of "Attack of the Clones" and "Revenge of the Sith." He hides behind a pair of thick glasses and adopts a strange, sickeningly sweet persona that, of course, hides a manipulative psychotic. That's the trick the actor manages to pull off - he has to get the audience to believe in and understand both sides of the character. A chronic liar, his fabrications become so involved and complex that they in themselves form a fascinating thread in the story. Most of Glass's tales have a small kernel of truth, but the majority is all made up. So he invents additional bogus material and fake evidence to back up the original fabrications, such as websites & voice-mails. It's like seeing a whole separate made up world created and co-existing with ours, all springing from Glass's warped mind. Glass also reminds me of more dangerous social misfits, such as serial killers, so a couple of scenes towards the end especially carry an extra chill. When Glass is found out, another interesting process which unravels his lies, Christensen shows us he really worked out the character. His desperation and seeming despair is alarming to behold and fits in with the character we saw in the first half of the film. The detective work done by Steve Zahn's character to begin finding out what's untrue is also very interesting to observe, and then Glass's own editor (Sarsgaard), new on the job, follows up on the groundwork laid out to finally deduce what has sort of been in front of them the whole time. Sarsgaard, a very good actor, is a standout juggling new pressures, mixed feelings and finally resolve to get at the truth. The film captured the real truth of what happened back then, based on what we can see of the real Glass on the "60 Minutes" interview.
Lorenzo von Matterhorn
Super Reviewer
½
What a really great movie! This is based on the true story of a guy who pulled the wool over the eyes of his employers for a long time. This was a very, very interesting story.
Cynthia S.
Super Reviewer
½
Would've made it to my faves list had it not been for its sloppy execution & poor acting by the lead actor.
familiar stranger
Super Reviewer
Shattered Glass Quotes
| | |
| --- | --- |
| Stephen Glass: | "All I know is I was here. The conference was right here. That's why the Restils didn't stay very long; because it was such a dumb place to squeeze into." |
| Stephen Glass: | All I know is I was here. The conference was right here. That's why the Restils didn't stay very long; because it was such a dumb place to squeeze into. |
| Stephen Glass: | And, over and over: "Did I do something wrong? Are you mad at me?" |
| Stephen Glass: | And, over and over: Did I do something wrong? Are you mad at me? |
| | |
| --- | --- |
| Michael Kelly: | Steve, I have to ask you this: did you ever cook a piece when *I* was your boss? Did you ever lie to me? The story about the mini bottles, was that true? |
| | |
| --- | --- |
| Stephen Glass: | Hey I threw a party where all we did was play Monopoly would guys come? |
| Caitlin: | Could I be the little shoe? |
| Stephen Glass: | Of Course |