Shaun the Sheep Movie
(2015)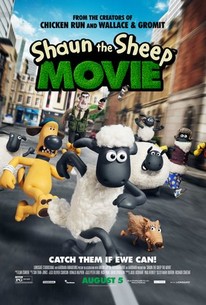 TOMATOMETER
AUDIENCE SCORE
Critic Consensus: Warm, funny, and brilliantly animated, Shaun the Sheep is yet another stop-motion jewel in Aardman's family-friendly crown.
Shaun the Sheep Movie Videos
Shaun the Sheep Movie Photos
Movie Info
When Shaun decides to take the day off and have some fun, he gets a little more action than he bargained for. A mix up with the Farmer, a caravan, and a very steep hill lead them all to the Big City and it's up to Shaun and the flock to return everyone safely to the green grass of home. (C) Lionsgate
Critic Reviews for Shaun the Sheep Movie
Audience Reviews for Shaun the Sheep Movie
½
Great for children of all ages, as the saying goes, as a small rebellion against monotony turns really bad and the mutineers must avail themselves to set things right. Particularly fun in all of this is that most everything is done in pantomime, which is both very hard and very clever. Me likey.
Kevin M. Williams
Super Reviewer
Shaun the Sheep is warm, clever, witty, hilarious, touching, sweet, cute. I could go on. A delight for those who appreciate a whimsical romp. It's refreshingly slight clocking in at a mere 85 minutes. For those whose tastes run toward more electrifying fare, this placid tale may seem a bit soporific. There's nary a word of spoken dialogue. Everything is expressed through gestures and vocal cues. I, on the other hand, truly appreciated this undemanding tale's lighthearted take. It's rather impressive how much story be conveyed through mutters and grunts and baas and bleats. As such, witty sight gags abound. Gentle G rated humor references Inception, Silence of the Lambs, Taxi Driver and The Terminator. Stick around for an end-credits homage to Ferris Bueller's Day Off. Early on, the sheep lull Farmer to sleep by continuously jumping over a fence. But my absolute favorite interlude is a disguise sequence where the sheep dress up as humans and go out to a fancy French restaurant. It's so visually brilliant it could only be described as Chaplin-esque. fastfilmreviews.com
Mark Hobin
Super Reviewer
½
Not having seen the television series that these loveable characters are based on, I went into "Shaun the Sheep Movie" cold. I can say without a doubt that it is one of the best films you will see all year. From no dialogue throughout the entire film, to it's story of sheep just wanting a break from their boring daily routine, this film has it all. Helming and embracing it's visual gags, cliched gags, and clever gags all the way through, the laughs are constant and never let up. It was almost overwhelming how charming this little film became by the end, and it is not just the mindless sheep-filled adventure that the trailers make it out to be. There is an emotional undertone to the story that really makes it stand out above most animated films nowadays. What always impresses me the most from Aardman (the company behind these claymation films) is their ability to bring a realism to their animation. It is so maticulously handled that it seems flawless, and that is always the most commendable thing. There are times where you just completely forget you are watching a claymation picture. "Shaun the Sheep" get's every point across with it's silent style of filmmaking and I absolutely loved that. This is the definition of "show-don't-tell." If I had one quip it would be the fact that they have a few too many fart jokes that become a little too juvenile, but the film is for kids as well, so I forgave that. "Shaun the Sheep Movie" really is a work of art for it's genre.
Shaun the Sheep Movie Quotes
| | |
| --- | --- |
| The Farmer/Bitzer: | Grrrrrrrr! |
| | |
| --- | --- |
| Trumper: | (Mocking Shaun) Beeeee! |
| Trumper: | Beeeee! |