She Done Him Wrong
(1933)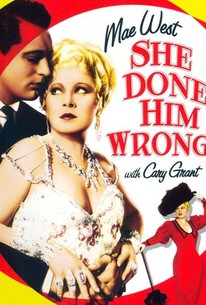 She Done Him Wrong Photos
Movie Info
"I'm the finest woman who walked the streets," declares bejeweled, hip-swishing Lady Lou (Mae West) at the beginning of She Done Him Wrong. Lou works as a singer at the Gay Nineties saloon of Gus Jordan (Noah Beery Sr.), who plies her with diamonds to keep her by his side. She runs afoul of stalwart mission captain Cummings (Cary Grant), who warns her that she's on the road to perdition. Mae West's first starring film, She Done Him Wrong literally saved Paramount Pictures from bankruptcy. It would remain the best of her feature films, most of which were severely watered down by the Production Code (whose renewed stringency of 1933 was brought about in great part by West herself). She Done Him Wrong was based on West's own stage play, +Diamond Lil, which ran on Broadway for 97 weeks. West sings "Frankie and Johnny," "I Like a Man Who Takes His Time," and ""I Wonder Where My Easy Rider's Gone.""
Critic Reviews for She Done Him Wrong
Audience Reviews for She Done Him Wrong
Mae West gives a compelling, albeit wholly unlikable performance as a heartless, wealth-focused man-eater. I've got to say it's one of the least sexy performances by a so-called sex symbol in recent cinematic memory.
Kristijonas Fussman
Super Reviewer
A turn-of-the-century singer manipulates various gangland suitors. In an iconic role, Mae West saunters her through this film. She creates an attitude but not a character, and the film highlights her charisma, delights in her wit, and revels in her schemes. The rest of the characters, even the vaguely racist portrayal of Lady Lou's dressing maid, are window dressing as West chews scenery. It's a performance that is more ambiance than storytelling. The film's plot unfolds predictably, and though the chemistry between Cary Grant's character and Lady Lou is palpable, the romantic undertones of their relationship are revealed more by the skilled actors than by the script. Overall, the atmosphere West creates is alluring and a little fun, but the film feels incomplete to a modern viewer.
Jim Hunter
Super Reviewer
Mae West stars as Lady Lou, a singer and very popular lady living above a saloon in the 1890s. She's quite the worldly lady when it comes to some things, but when it comes to others, she's a little bit too naive for her own good. She's got men throwing themselves at her at every turn, including one big timer who gives her box loads of diamonds and one small timer who's serving time and literally can't wait to have Lou in his arms again. She plays them all, telling them what they want to hear and reaping the benefits. But there's one man she can't seem to get a handle on, the local captain at the missionary (Cary Grant). He's more interested in saving Lou's soul than in having her body, much to her chagrin. When a shamed woman tries to commit suicide in the saloon, Lou takes her under her wing and sends her to the mission. It turns out the boss of the saloon didn't get the girl a job like he promised but instead ran her into some sort of "white slavery" ring (where else would he get all the money to pay for Lou's diamonds?). It's strange that most of the bad in men (in She Done Him Wrong) can all be traced back to the temptations of a single woman. Cary Grant's closing line to her is "You're a baad girl" to which she replies "You'll find out" (purportedly, Mae West gave Grant his big break, choosing him to star opposite her in this film- West obviously knew a thing about male actors). She Done Him Wrong is a very good film, well shot with a nostalgia for the gay 90s and Mae West just eats up the scenery. Sure, everyone knows her schtick: the cat-like drawl, practically moaning her double entendres and innuendos, the way she swings just about every part of her body when she walks, but does everyone catch just the subtlest raised eyebrow as she belts out "Frankie and Johnnie"? I don't even know if West noticed it herself. Her performance of that character might've been like second nature to her by that point (in this, her second film, Mae was already 39 years old and a veteran of the stage). Whether or not the cast rises to the challenge of performing with her is moot, this is Mae West's film and hers alone, and she's a magnificient talent.
Devon Bott
Super Reviewer
She Done Him Wrong Quotes
| | |
| --- | --- |
| Lady Lou: | Why don't you come up sometime and see me? |
| | |
| --- | --- |
| Lady Lou: | Why don't you come up sometime and see me? |