She Gets What She Wants
(2005)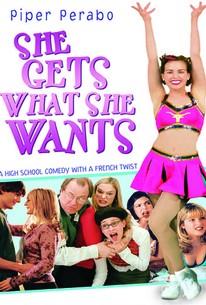 She Gets What She Wants Photos
Movie Info
Starla Grady (Jane McGregor), the most popular girl at Splendona High School in Splendona, TX, is on top of the world. That is, at least, until foreign-exchange student Genevieve LePlouff (Piper Perabo) moves in with Starla's family. Starla's parents had hoped that Genevieve's tutoring would help raise Starla's French grade, which had dropped dangerously low. At first, like Starla's other followers, Genevieve seems in awe of her charmed existence. However, when Genevieve's story of misfortune and lost love is featured in the school newspaper, Starla feels the winds begin to change. Before she knows it, Genevieve has stolen all of her best friends, her boyfriend, her position on the cheerleading squad, and her status as the most popular girl in school. Starla, not one to go down without a fight, sets out to expose Genevieve as the lying backstabber she truly is. Slap Her...She's French is directed by veteran thirtysomething actress Melanie Mayron.
Critic Reviews for She Gets What She Wants
Audience Reviews for She Gets What She Wants
½
I know this movie by the title "slap her, she's french". Absolutely loved it first time I saw it. A rewatch a decade later has not been quite so kind - it's definitely somewhat silly in its plot (funny i never noticed that the motivations actually made no sense). But it's still a fun, trashy watch, and even better now it has the nostalgia thing happening. I pretty much wanted every outfit Piper wears. I don't really know what that says about me. It's not like they were meant to be fashionable outfits. She's quite a geek initially. Piper Perabo really was a good actress. It's a shame she's not in much the days. Coyote Ugly is still an all time favourite of mine.
Nicki Marie
Super Reviewer
Dead Angel
Super Reviewer
A brainless teen comedy to seat in from of the TV for a few laugh and to spend your spare time. This movie it is also known as "She Gets What She Wants". It also it is a teen remake of "All About Eve".
She Gets What She Wants Quotes