She Hate Me
(2004)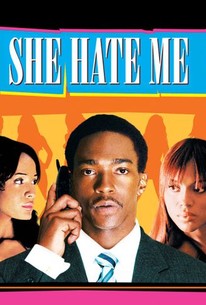 Movie Info
Harvard-educated biotech executive John Henry "Jack" Armstrong gets fired when he informs on his bosses, launching an investigation into their business dealings by the Securities & Exchange Commission. Branded a whistle-blower and therefore unemployable, Jack desperately needs to make a living. When his former girlfriend Fatima, a high powered businesswoman--and now a lesbian--offers him cash to impregnate her and her new girlfriend Alex, Jack is persuaded by the chance to make "easy" money. Word spreads and soon Jack is in the baby-making business at $10,000 a try. Lesbians with a desire for motherhood and the cash to spare are lining up to seek his services. But, between the attempts by his former employers to frame him for security fraud and his dubious fathering activities, Jack finds his life, all at once, becoming very complicated.
News & Interviews for She Hate Me
Critic Reviews for She Hate Me
Audience Reviews for She Hate Me
½
Spike Lee tries to mix strawberries with mashed potato. It doesn't work
Marcus Woolcott
Super Reviewer
½
Spike Lee is aiming for too many things here, in some is a hit, in others are a miss. The first half builds up around the usual relationships stuff, then the second half forgets about the first and goes into a socio-political-commentary rampage. Also the movie depends on just way too many wishifull thinking and "happy coincidences" to work properly and be convincing. If only Spike cut it off the political stuff, his movies would be actually a lot better. John Turturo's character, and all his dialogues and scenes were like if Spike was doing a parody of Do the Right Thing.
Tsubaki Sanjuro
Super Reviewer
Aloha, Spike, what is up with this? No worry, shrimp curry, I've had some dry spells myself.
Lanning : )
Super Reviewer
She Hate Me Quotes
There are no approved quotes yet for this movie.