She-Devils on Wheels
(1968)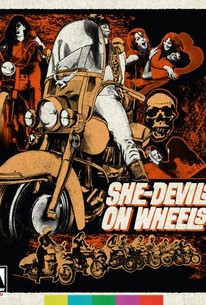 Movie Info
Cult filmmaker Herschell Gordon Lewis directed this outrageously campy story of an all-female motorcycle gang called The Man-Eaters. The butch, chain-wielding women pick men to service them from a line-up, fight with male bikers, and hold orgies. Nancy Lee Noble (The Girl, the Body, and the Pill) appears as a naive recruit named Honey-Pot, and there are the usual decapitations and crucifixions which the viewer might expect from the director of Blood Feast. T-shirts bearing images of the film's flamboyant poster ("Soft, HELL!") became trendy among urban teens in the 1980s.
Critic Reviews for She-Devils on Wheels
Audience Reviews for She-Devils on Wheels
Hershell Gordon Lewis' biker movie involves a female biker gang, which I thought was just awesome, and I really liked the ending too. It was the rest of the movie that wasn't so hot. The movie gets pretty boring in some scenes, and a lot of the scenes with violence seem to belong in a horror movie, which is what the director is usually known for. Overall, an interesting movie, but it's just okay, not great.
This film is a must for HGL fans that are in it for his style not just his gore. It has a lots of his charm, and badass biker chicks are always great to watch.
Patrick Dolan
Super Reviewer
She-Devils on Wheels Quotes
There are no approved quotes yet for this movie.