The Sheik
(1921)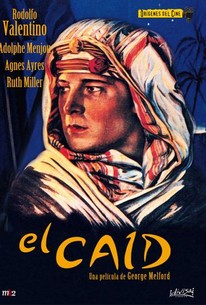 Movie Info
In this silent film, an English woman, Diana Mayo (Agnes Ayres), is kidnapped by the passionate and handsome Sheik Ahmed Ben Hassan (Rudolph Valentino). As Diana struggles to escape her captor, she is again taken hostage by a ruthless desert scoundrel (Walter Long), and it is up to the sheik to save her.
Critic Reviews for The Sheik
Audience Reviews for The Sheik
Dark and swarthy, Valentino, playing an Arab, stands over a lily-white British woman that he's kidnapped, leering at her quite literally like a maniac. "What do you want," she asks. "Aren't you woman enough to know," he gloats. And there's the appeal in a nutshell: will a darkie sully a paragon of virtue? Not to worry though, there's no sex until after it's revealed that he's actually English, actually a white man. I was only saddened. And they rioted when he died. Sad. Oh, and the film? Eh.
Kevin M. Williams
Super Reviewer
½
Agnes Ayres as Diana Mayo was introduced as an adventurous Englishwoman, but in reality she spends most of the time cowering in cliched leading lady fashion. She thinks Rudolph Valentino's Sheik Ahmed is a savage as well as the whole Middle Eastern culture, and she is terrified of hoards of Arabians on horses. Not really up for trying new things. Ahmed may be handsome and have a Paris education (with a French butler and best friend who is a French novelist), but the fact remains that he does kidnap Diana, hold her against her will, and almost rapes her. St. Hubert (Menjou), the novelist, helps to awake Ahmed's conscience. A bandit is introduced who equally wants to take the Englishwoman as property, but who is presented as more brutal and therefore the worse of the two options. Through a bit of romantic fantasy and psychological delusion, Diana begins to fall in love with her captor. Despite the lavish sand dunes, set decorations, and costumes, it really is a racist kind of story with a romance that shouldn't happen. In the end, we find out The Sheik's surprise background and this is supposed to ease further objections. Sorry.
Byron Brubaker
Super Reviewer
½
A predictable romance drama, with some adventure. It's pretty good, but the ending was bad if you ask me, I didn't care for it, it was silly.
The Sheik Quotes
There are no approved quotes yet for this movie.