Shenandoah
(1965)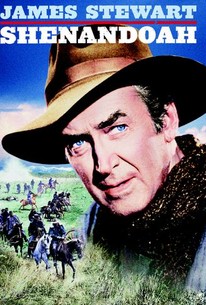 Movie Info
A Civil War western about a Virginia farmer reluctant to get involved in the conflict which has taken hold of the country, but when one of his sons is murdered by Confederate looters and his youngest boy is captured by Union soldiers, he is forced to take a stand.
Critic Reviews for Shenandoah
Audience Reviews for Shenandoah
More a rugged outdoor family drama than a cowboys 'n' injuns shoot 'em up, it features a typically reliable performance by old warhorse James Stewart who plays the pragmatic patriarch of a Virginia farming family caught up in the civil war. It's episodic and a little cloyingly sentimental, but it has it's moments, particularly the cow stopping play during a battle and a memorable cameo from George Kennedy as a world weary union colonel.
Shenandoah Quotes
| | |
| --- | --- |
| Charlie Anderson: | Lord, we cleared this land. We plowed it, sowed it, and harvest it. We cook the harvest. It wouldn't be here and we wouldn't be eating it if we hadn't done it all ourselves. We worked dog-bone hard for every crumb and morsel, but we thank you Lord just the same for the food we're about to eat, amen. |