Sherlock Gnomes
(2018)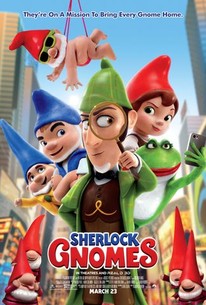 Movie Info
When Gnomeo and Juliet first arrive in the city with their friends and family, their biggest concern is getting their new garden ready for spring. However, they soon discover that someone is kidnapping garden gnomes all over London. When Gnomeo and Juliet return home to find that everyone in their garden is missing there's only one gnome to call SHERLOCK GNOMES. The famous detective and sworn protector of London's garden gnomes arrives with his sidekick Watson to investigate the case. The mystery will lead our gnomes on a rollicking adventure where they will meet all new ornaments and explore an undiscovered side of the city.
News & Interviews for Sherlock Gnomes
Critic Reviews for Sherlock Gnomes
Audience Reviews for Sherlock Gnomes
½
Mediocrity is afoot in Sherlock Gnomes. When a number of garden gnomes go missing in London famous investigator Sherlock Gnomes takes on the case. Johnny Depp and Chiwetel Ejiofor join the cast but don't really add anything; giving adequate performances. And the humor is rather weak, as is the soundtrack (which was one of the highlights of the first film). Sherlock Gnomes is a lackluster sequel with a formulaic plot that just seems like it's going through the motions.
Dann Michalski
Super Reviewer
½
It's been a couple of hours after watching Sherlock Gnomes and I still have alcohol working through my bloodstream (a byproduct of having to watch Sherlock Gnomes) and so I thought why not begin the review writing process and see where this goes. A little pretext first: I had no intention of watching this movie. Every time its trailer came before a movie I was watching, I cringed harder than I ever have. I cannot remember another movie trailer that I would describe as soul-killing as this one, with its emphasis on butt humor and an extended joke about a thong-wearing gnome farting in the mud. To watch this trailer was to look into the empty abyss and have it look back into you. It was this repulsed reaction that entertained my friend Ben Bailey so much that he insisted that we watch Sherlock Gnomes one fateful evening (he paid for my ticket and my suffering). I loaded up at the theater's bar and the bartender made the easiest upsell he ever did in his life, and I took my tall adult beverage, sat in the theater, and awaited the end, like a man heading toward execution. Then a funny thing happened and Sherlock Gnomes was not the film advertised in its abysmal, life-questioning trailer. It's still not great, though. Following the events from the 2011 original, Gnomeo and Juliet, the garden gnomes have relocated to a new home in London. Gnomeo (voiced by James McAvoy) and Juliet (voiced by Emily Blunt) are entrusted with the gnome-specific responsibilities of the garden by gnome leadership. I guess it's about making the place look nice. Anyway, Sherlock Gnomes (voiced by Johnny Depp) and his trusty sidekick Watson (voiced by Chiwetel Ejiofor) are looking into the disappearance of gnomes all over. One unfortunate day, while Gnomeo and Juliet are away from their garden, the rest of the gnomes have been kidnapped. Sherlock Gnomes and the others vow to find them, believing the culprit to be Sherlock's longtime nemesis, Moriarty (voiced by Jamie Demetriou). Remarkably, a solid 80 percent of the trailer for Sherlock Gnomes is not in the finished film. The fart Jacuzzi? Gone. The "no ship Sherlock" bit? Gone? The thong-wearing gnome twerking? Gone. This fascinates me. We've long been plagued with trailers that ultimately have moments not in the final product, but I've never seen a movie, let alone an animated feature, where the clear majority of its trailer does not exist. Animated films takes many years in development and are generally costly. If a live-action film cuts footage in its final edit, it lost those days of work. If an animated film cuts footage in its final edit, it lost months if possible years of toil. How does this happen? Was the trailer an intentional ruse meant to advertise a far more juvenile, base, and dispiriting movie? The trailer features several jokes or references that, I assumed, were never intended for the final product because these scenes involve the other gnomes who were kidnapped. That means they were animated and either radically changed the story or these jokes were cynically constructed to produce a misleading trailer to appeal t children with farts. This truly fascinates me and befuddles me, a worthy mystery for Sherlock Gnomes. The actual Sherlock Gnomes film I sat through wasn't actively painful but it wasn't particularly engaging or rewarding either, a mediocre children's movie that will vanish from memory upon the ride home. There were a handful of moments where I rolled my eyes but no joke, no pun, even approached the pain of that trailer. On the flip side, there was perhaps two jokes that drew a mild chuckle and that was it. For the majority of the 86-minute running time, I just sat and took it all in, never really engaging. It was boring yet inoffensive, colorful yet unimaginative, and derivative yet silly enough to be a trifle. The look of the animation as a bit more polished than I was anticipating. The use of lighting and scale is well balanced. The voice acting was acceptable from the star-studded cast and I didn't feel any great sadness for anyone's involvement. The lessons and plot twists will be predictable enough for someone over the age of eight, but hey, everybody needs to learn some time. The use of the Elton John song catalogue (he is a primary producer) is the most forced element in the film, elbowing in one song or another, including "original songs" that you won't even remember. Much like the rest, John's contributions are mediocre and easily forgotten. I kept wondering about the lazy world building and its implications. This is a clear application of Pixar's oft-used formula of the secret-life-of, this time with garden gnomes. Except there's a segment where Sherlock and Juliet go to a club populated with dolls, stuffed animals, and toys of all sorts. So it's not just garden gnomes that are secretly alive, it's also children's toys. Which means this is essentially the same universe as Toy Story. For whatever reason, and maybe it's a misplaced sense of novelty, we stick with the gnomes. These creatures worry about being smashed, though can they be put back together much like Humpty Dumpty (except he couldn't be put back together even with the help of all the king's men and horses, no never mind this references. Also, what good are horses going to do putting together the shattered pieces of an egg-man? Do horses have thumbs to pick up the broken pieces? I feel like this entire aside might be attributable to the alcohol still in my system). If breaking is their biggest fear, why do these gnomes take such unnecessary risks with their safety and well-being? When Gnomeo is tossing Juliet in the air atop a ladder, I worried for her little gnome life. This cavalier attitude prevails amidst the larger gnome community, and my only conclusion is that these creatures are either thrill-seeking junkies or masochists. Then I began thinking of the life of other garden gnomes. I assume most gnome-owners don't exactly have an entire menagerie of these things, and so the majority of gnome existence must seem awfully isolated and lonely. Their communities must be few and far between. Then I started thinking about transforming past Best Picture-winners into gnome format, and let's just say that 12 Years a Garden Gnome was not a good idea for anyone. This is a sequel and combined spin-off for the animated gnomes world, so the holdover characters often feel superfluous. This is clearly more of a Sherlock vehicle and there are even references to the Hound of Baskervilles and The Final Problem, among others. This is trying to establish a Sherlock Gnomes franchise first and foremost. The Gnomeo and Juliet subplot feels rushed and foolishly resolved. Now tasked with running the garden, Juliet feels overwhelmed with pressure and Gnomeo feels like he isn't getting attention. Rather than support her, or see things from her perspective, he pouts and accuses her of taking him for granted. To conclude this storyline, she actually apologizes, and I shouted, "Apologize for what?" A better rendition of this storyline is realized with Sherlock Gnomes repeatedly being indifferent to Watson's contributions. When the main theme, character arcs, and plot points involve new characters, you might as well get rid of the holdovers and go all-in on Sherlock Gnomes. Was there a picky audience that would have said, "I will only accept another gnome-related children's film if it has the tiniest connection to the last gnome-related children's film"? Also, there's another garden gnome children's film on the horizon, Gnome Alone, so stay tuned, gnome aficionados. The victory is that Sherlock Gnomes is not the seventh-seal-breaking apocalyptic event that its reprehensible, punishing, life-sapping trailer suggested. Hooray for you, Sherlock Gnomes filmmakers. The finished product is still a mostly middling time-waster that feels like a Gnomes relaunch. I fully admit this movie was never intended for someone my age, but I attempted to see its merits for its intended audience. If you have young kids, this is a reasonable 86-minute time waster while you, presumably their parent, can do something, anything better with that time. Go back to that novel you keep pushing off. Have some alone time with yourself or another person. Or simply close your eyes and enjoy the silence. Whatever you do, Sherlock Gnomes is an adequately forgettable comic adventure that will afford you time to think. Nate's Grade: C UPDATE: Thanks to the amazing connectivity of the Internet, someone closely involved with the Sherlock Gnomes production contacted me to inform me that my theory about the trailer discrepancy was correct. Paramount;s marketing team wrote the trailer and insisted the production spend valuable time animating it. The more juvenile jokes were designed, as this source indicated, to put as many butts in the seats opening weekend, and that the marketing department knew best, and that was that. The production spent time creating scenes for a trailer they had no intention of ever being in the finished film, scenes that badly characterized what kind of movie it would be. You can blame Paramount's marketing department for the soul-killing trailer. Thanks, Sherlock Gnomes source, for reaching out and clearing up that mystery.
Nate Zoebl
Super Reviewer
Sherlock Gnomes Quotes
There are no approved quotes yet for this movie.