Sherlock Holmes: A Game of Shadows
(2011)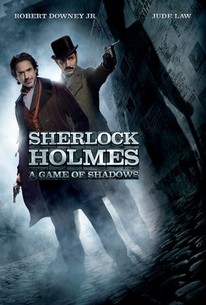 TOMATOMETER
AUDIENCE SCORE
Critic Consensus: Sherlock Holmes: A Game of Shadows is a good yarn thanks to its well-matched leading men but overall stumbles duplicating the well-oiled thrills of the original.
Sherlock Holmes: A Game of Shadows Photos
Movie Info
Sherlock Holmes (Robert Downey Jr.) has always been the smartest man in the room...until now. There is a new criminal mastermind at large-Professor Moriarty (Jared Harris)-and not only is he Holmes' intellectual equal, but his capacity for evil, coupled with a complete lack of conscience, may actually give him an advantage over the renowned detective. When the Crown Prince of Austria is found dead, the evidence, as construed by Inspector Lestrade (Eddie Marsan), points to suicide. But Sherlock Holmes deduces that the prince has been the victim of murder-a murder that is only one piece of a larger and much more portentous puzzle, designed by Professor Moriarty. The cunning Moriarty is always one step ahead of Holmes as he spins a web of death and destruction-all part of a greater plan that, if he succeeds, will change the course of history. -- (C) Warner Bros
News & Interviews for Sherlock Holmes: A Game of Shadows
Critic Reviews for Sherlock Holmes: A Game of Shadows
Audience Reviews for Sherlock Holmes: A Game of Shadows
½
A silly yet enjoyable movie that continues to portray Holmes as a modern action hero, not trying anything new compared to the previous chapter and just going for a safe plot that is never daring. Still, it is a lot of fun, with an exciting mind battle as climax.
Carlos Magalhães
Super Reviewer
½
On the eve of his wedding day, Doctor Watson is persuaded by his erstwhile partner in crime to go head to head with arch nemesis Professor Moriarty in a game of international cat and mouse. The Victorian bromance continues as the bickering detectives cut a swathe across Europe in pursuit of the nefarious Moriarty leaving a trail of computer generated carnage in their wake. Subtlety certainly takes a back seat as Game Of Shadows follows the usual blockbuster sequel formula of dumber and louder=better, with the homo-eroticism of the first film in particular ramped up to Carry On proportions. Unlike the Indiana Jones vibe of the previous film, the plot here is very much a James Bond-style tale of espionage full of tommy guns, explosions, disguises and international intrigue and it's all very episodic. The dialogue of double act Downey and Law is not as sparky or fresh this time around, but they are still very likeable and the breathless pace makes for an enjoyable romp that consistently entertains. As ever it is not the measure of the original, but as a piece of popular entertainment in its own right it's a lot of fun.
½
Having heard many a negative review of this film I was pleasantly surprised and entertained by this 2nd offering of Downey Jr. as Conan Doyle's famous detective. It was established in the first film that Downey's Holmes is much more the action figure than the text intended, but if you can forgive that, then this film, as the first, is solid and entertaining. Director Guy Ritchie as usual does tend to teeter into excess in his style over substance approach (he doesn't really give you the chance to be fully absorbed in the film... ie. Forgetting that you are watching a film - mainly due to his overuse of camera techniques; in particular the stop action/slow mo/fast mo that dates back to the Matrix films - especially in a overly long "escape" scene with the heroes running through the woods as bullets fly around them). It is this scene and a couple of others that could have used a bit of judicious editing to prevent the film from bogging down - but that being said, the chess match (real and metaphorical) between Holmes and arch villain Moriarty (a wonderful turn by Richard Harris' son Jared) certainly makes for compelling viewing. Ritchie also uses an interesting technique to let you "inside" Holmes' brain. Showing us how and why he will execute certain maneuvers and assessing their potential - and then showing us the action and the result in real time. This could be off-putting to some, but I found it a stroke of brilliance; especially at the film's climax when Holmes' "thoughts" are interrupted by Moriarty. A kind of "well, if you do this, then I'll do that" bit of sophistry akin to thinking 3 moves ahead on a chess board. This film, as was the case with its predecessor, has a fair amount of humor (the scene with Holmes aboard a pony was laugh out loud funny), and really - it's this insertion of humor that tells you that you are watching "entertainment" - that Ritchie knew going in that this was not something to be treated in utmost seriousness. There are a few other flaws that I tend to overlook - for example Jude Law's Watson overemphasizes his war wound limp at film's beginning... which of course totally disappears when the script needs him to transform into an action hero. There is also the rather hackneyed sentiments about Watson's wedding and how that will allegedly effect Holmes - you kind of role your eyes and move on to the meat of the matter - the sublime cat and mouse game between Holmes and Moriarty - ignore the rest and you will be totally entertained.
paul sandberg
Super Reviewer
Sherlock Holmes: A Game of Shadows Quotes
| | |
| --- | --- |
| Sherlock Holmes: | It's so overt, it's covert |
| | |
| --- | --- |
| Professor James Moriarty: | Your clock is ticking. |
| | |
| --- | --- |
| Sherlock Holmes: | It's so overt...it's covert. |
| | |
| --- | --- |
| Madam Simza Heron: | A wagon is too slow. Can't you ride? |
| Dr. John Watson: | It's not that he can't ride. How is it that you put it, Holmes? |
| Sherlock Holmes: | (Horses) They're dangerous at both ends and crafty in the middle. Why would I want anything with a mind of its own bobbing about between my legs? |
| Sherlock Holmes: | [horses] They're dangerous at both ends and crafty in the middle. Why would I want anything with a mind of its own bobbing about between my legs? |