Sherlock Holmes and the Secret Weapon
(1943)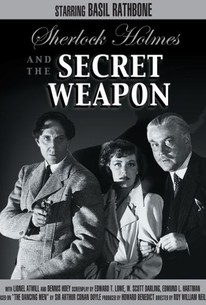 AUDIENCE SCORE
Critic Consensus: No consensus yet.
Movie Info
This film pits the Great Detective against that "Napoleon of Crime," Professor Moriarty. Moriarty has aligned himself with the Nazis and has dedicated himself to stealing a top-secret bombsight. Racing against the clock, Holmes and Dr. Watson must prevent Moriarty from getting his mitts on the precious secret weapon.
Critic Reviews for Sherlock Holmes and the Secret Weapon
All Critics (2) | Fresh (1) | Rotten (1)
The pacing is slack, the big mystery not mysterious enough, and the showdowns between Holmes and Moriarty a bit too silly for my taste.
Not a great Sherlock (too many plot holes), but one that's entertaining, never dull and has a lot of intrigues going for it.
Audience Reviews for Sherlock Holmes and the Secret Weapon
The fourth partnership with Rathbone and Bruce as Holmes and Watson. The second one transferred in time to WWII. Dr. Tobel (Post), of Switzerland, has invented the secret weapon in question and Holmes is assigned to keep him and it out of the hands of the Nazis. A couple of the clues Holmes follows when Tobel goes missing harken back to Doyle's stories, but otherwise it doesn't have much in common with the literary creation. Sherlock dons a couple good disguises and the settings are fairly interesting. However, this Dr. Watson is pretty useless as is Lestrade, the mystery is not gripping, nor is Moriarty (Atwill) that threatening, and I don't like the changes to costumes, vehicles, or historical context to cheapen the costs.
Byron Brubaker
Super Reviewer
Sherlock and Watson's second wartime adventure. This time the forced patriotism isn't as prevalent which gives way to an interesting story that uses the wartime backdrop to great effect. Holmes, once again played by the phenomenally good Rathbone, helps a scientist with a Secret Weapon to escape Switzerland without running foul of Nazis. Once back in England, the scientist develops his weapon for the British government but an old nemesis of Holmes' is back to wreak havoc. The film has the typical but always amusing banter between Holmes and Watson, with Lestrade also given a number of key scenes to play off the pair. The mystery itself is a bit up and down at times. We are told the answer before Holmes or Moriarty work it out which means they are playing catch-up with us. Also with the short running time there is no time for any character development. It is all exposition. Character was particularly important here, as one could argue against the scientist's choices in how he deals with the situation. A fun and fast paced entry.
Luke Baldock
Super Reviewer
I had the chance not too long ago to see this with a small crowd in a theatre, and I had a lot of fun in the process. I don't know if The Secret Weapon is one of Holmes' best outtings, but it's certainly enjoyable. The beginning is kind of slow and it takes a bit to get the plot underway (more so than usual), but it gets better and better as the film goes along. Again, Moriarty is up to no good, this time trying to steal a nuclear weapon. The pace is a little more lax than other films in the series, but there's enough story instead of constant expository dialogue to make up for it. The ending is also quite biting, and makes the whole film worth watching, in my opinion. I'm looking forward to seeing more of these films in the future.
Tim Salmons
Super Reviewer
Sherlock Holmes and the Secret Weapon Quotes
There are no approved quotes yet for this movie.