Sherlock Holmes and the Woman in Green
(1945)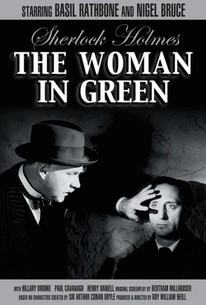 Sherlock Holmes and the Woman in Green Photos
Movie Info
Based on Conan Doyle's The Adventure of the Empty House, this "Sherlock Holmes" entry finds Holmes (Basil Rathbone) and Dr. Watson (Nigel Bruce) trying to solve the case of the "Finger Murders". Several beautiful women have been found slain, all with their right forefingers severed from their hands. The police are prepared to write off the killings as the work of a madman, but Holmes deduces that there's a sane motive behind it all. Sure enough, the trail of evidence leads to Holmes' perennial nemesis Professor Moriarity (Henry Daniell), who is in league with lissome female criminal Lydia (Hillary Brooke). Though it isn't sporting to reveal Moriarity's nefarious scheme here, it can be noted that The Woman in Green comes to a nailbiting conclusion as a hypnotized Holmes wanders precariously along the ledge of a penthouse!
Critic Reviews for Sherlock Holmes and the Woman in Green
Audience Reviews for Sherlock Holmes and the Woman in Green
I love the Sherlock Holmes films with Basil Rathbone and Nigel Bruce quite a bit, but The Woman in Green is a slight step back to me in terms of story quality. For one, the emphasis turns out to be mainly on Moriarty's use of hypnotism, instead of the more intriguing 'modern day Jack the Ripper' plot thread that turns out to be a red herring of sorts. I'm not saying that Moriarty shouldn't have been involved with the story, but this one feels a little bit forced, and doesn't seem to flow as well as some of the others. It's still enjoyable, but not quite fulfilling enough.
Tim Salmons
Super Reviewer
Interesting but placing a lot of the blame on hypnotism was a bit sill. Glad that Moriarty was mainly responsible though.
Sunil Jawahir
Super Reviewer
½
I found this review by dhetteix rather useful: "this particular outing for Holmes is a bit of a letdown. To be sure, the themes of Hypnotism and serial-killing are out-and-out Doyle, but the inclusion of Moriarty, seemingly included for effect, merely softens the plot by introducing a major character for a somewhat brief caper. The film starts strong, yet ends predictably, with none of Holmes' deductive reasoning being revealed. Whilst strong in all other ways, the movie thus forgets the first rule of a Mystery plot: to remain mysterious."
Anastasia Bartzoulianou
Super Reviewer
Sherlock Holmes and the Woman in Green Quotes
There are no approved quotes yet for this movie.