Terror by Night
(1946)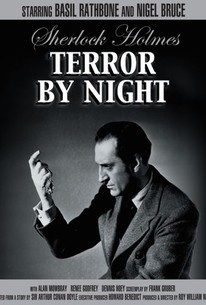 Movie Info
One of the later movies in the Sherlock Holmes series, in this one the sleuth is dodging death as he tries to solve the murder of the owner of a priceless diamond. On a train, they are racing against time to solve the mystery before the train arrives at its destination, allowing the murderer to escape.
Critic Reviews for Terror by Night
Audience Reviews for Terror by Night
½
Only a bit of a story, and a challenge, in this next to the last go-round for Basil Rathbone and Nigel Bruce as the movies' classic Holmes and Watson. A big shiny rock, and a murder done in its theft, are the driving impetus of the story. The cast and crew are old hands at this stuff by now, and so not a lot of effort is given here, and it shows. But they were quite correct in that the old formula does indeed still work, the chemistry is there, and so not a lot of effort is needed. Not bad.
Kevin M. Williams
Super Reviewer
I for one think Basil Rathbone played the best Sherlock Holmes. This movie has Holmes and Watson on a train en route from London to Edinburgh, They are there to protect The Star Of Rhodesia. A huge Diamond held by the Carstairs family. Of course we are lead to believe the diamond is stolen, and has Holmes bundled the case. There are so many suspects in this 60 minute classic. The ending provides quite a twist. I'm sad to say the film I watched was not a UCLA 35mm "restored" process team edition, but some company taking advantage of this film being in public domain and the film quality showed. You can also watch this film here on Flixster for free. Even though film quality was so poor, it was still worth 4 stars as a Holmes Classic.
Bruce Bruce
Super Reviewer
½
Basil Rathbone is as great as ever and Nigel Bruce is as much of a bumbly mess as ever.
Sunil Jawahir
Super Reviewer
Terror by Night Quotes
There are no approved quotes yet for this movie.