Sherlock Holmes: Incident at Victoria Falls
(1992)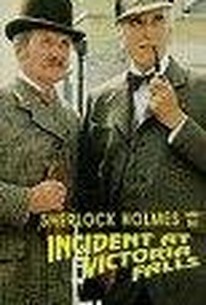 AUDIENCE SCORE
Critic Consensus: No consensus yet.
Movie Info
Four countries--Great Britain, Belgium, Italy and Luxembourg--were in on the financing of 1991's Sherlock Holmes: Incident at Victoria Falls. At first glance, Christopher Lee seems too old to play Conan Doyle's master detective, but the script allows for this by having the story takes place on the eve of Holmes' retirement. As Dr. Watson, Patrick McNee returns to the "comic relief" mode established in the 1940s by Nigel Bruce, albeit with less empty-headedness than was customary with Bruce. The plot concerns the safe passage of a valuable South African diamond, and the multitude of robberies, recoveries and major and minor intrigues the transpire before the denouement at the titular falls. To establish time and place, King Edward VI (Joss Ackland) and Teddy Roosevelt (Claude Akins) make brief appearances. When originally presented on European television, Incident at Victoria Falls was a four-hour miniseries, with Jenny Seagrove appearing in a sizeable role. For its American syndicated-TV bow in 1992, the film was somewhat clumsily chopped down to two hours, and Seagrove's part was eliminated (though her name still appears in the opening and closing credits). Incident at Victoria Falls is strongest in its elegant ambience and attention to detail; it is least successful in its ham-handed comic interludes. ~ Hal Erickson, Rovi
Critic Reviews for Sherlock Holmes: Incident at Victoria Falls
There are no critic reviews yet for Sherlock Holmes: Incident at Victoria Falls. Keep checking Rotten Tomatoes for updates!
Audience Reviews for Sherlock Holmes: Incident at Victoria Falls
Very prim and proper. The DVD box set has the longer version of this made-for-TV movie at over 3 hours and this one is packaged first. Christopher Lee at around age 70 is Sherlock Holmes on the cusp of retiring. Patrick Macnee of The Avengers is the trusty Dr. Watson who through his stories of their adventures has turned Sherlock into quite a celebrity in 1910. King Edward has Mycroft bring Sherlock to his office and assigns him to help transport a diamond from South Africa to England. So, this mystery doesn't take place around London and 221B Baker Street. Holmes and Watson take a cruise to Africa. Mycroft has supplied a fake diamond for Holmes to switch with the real one so crooks can't steal it from the safe, but a team of thieves get to the real diamond before Holmes makes the switch. Or did he already make the switch? At the hotel in Cape Town Sherlock begins to identify some suspects, as well as red herrings, but must follow the clues on a train to Victoria Falls. It turns a little Murder on the Orient Express. There are British suspects, Indian suspects, African native suspects, an Italian inventor of wireless communication, and even a couple American suspects on the train. One of the Americans is retired President of the United States, Teddy Roosevelt, on safari in Africa with a new moving picture camera novelty. Turns out the plot has to do with a large treasure somewhere in an African cave and most of the team of thieves responsible for stealing the diamond turning on each other.
Byron Brubaker
Super Reviewer
Sherlock Holmes: Incident at Victoria Falls Quotes
There are no approved quotes yet for this movie.