Sherrybaby
(2006)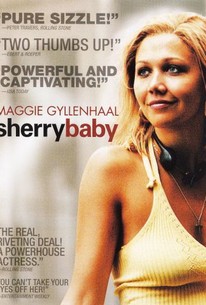 TOMATOMETER
AUDIENCE SCORE
Critic Consensus: Maggie Gyllenhaal delivers riveting performance as a recovering drug addict in a depressing and not entirely believable movie.
Movie Info
An emotionally stunted ex-convict whose recent release from prison finds her attempting to form a relationship with her young daughter finds that redemption doesn't come easy in this emotional family drama, the feature debut of award-winning documentary filmmaker Laurie Collyer. When Sherry Swanson (Maggie Gyllenhaal) was sentenced to three years in prison on a drug-related robbery conviction at the age of 22, she had just given birth to a daughter named Alexis (Ryan Simpkins). Placed in the care of Sherry's brother, Bobby (Brad William Henke), and sister-in-law, Lynette (Bridget Barkan), while her mother was behind bars, young Alexis has grown into an affectionate young girl eager to reconnect with the mother she has never met. Though Sherry at first seems determined to stay on the straight and narrow, increasingly infrequent visits to Alexis and a troubling revelation about her family past soon begin to lead the protective Lynette to take a stand in protecting the vulnerable youngster. Later, when compassionate 12-step veteran Dean (Danny Trejo) makes an effort to help Sherry become the mother she longs to be, the troubled ex-con is faced with the choice of truly living up to her word or potentially losing her daughter forever. ~ Jason Buchanan, Rovi
News & Interviews for Sherrybaby
Critic Reviews for Sherrybaby
Audience Reviews for Sherrybaby
Recently released from prison, a woman tries to reclaim her place as a mother while still hankering for the drugs that put her behind bars. Maggie Gyllenhaal is exceptional, breathing humanity into a selfish and oftentimes clueless woman with a strong, subtle performance. Her scenes with her daughter are heart-breaking and charming, and her scenes with the various men in her life allow her to play both the victim and the rebel. She simply makes the film worth watching. However, I thought the plot involving Sherry's relationship with her father came too late in the film and didn't add anything to the audience's struggle to understanding her character. Also, Brad William Henke plays Bobby like a simple schlub, and maybe this is the way the character is written, but it's not a strong choice. Does he judge Sherry? Hate her? Pity her? Who knows? Maybe all of the above. And Giancarlo Esposito's Officer Hernandez is such a prick that we wonder why Sherry would ever trust him. Overall, Maggie Gyllenhaal is remarkable in Sherrybaby, but the film leaves much to be desired.
Jim Hunter
Super Reviewer
No one makes it alone. Good movie! Maggie Gyllenhaal really carried this film on a very uncomfortable film to watch. The story was very good but difficult to watch in a way because of the main idea of a recovering mother trying to reach her daughter and reunite with her. Great acting! Sherry Swanson returns home to New Jersey after serving a three year prison sentence. Eager to reestablish a relationship with her young daughter, Sherry soon discovers that coming back to the world she left behind is far more difficult than she had planned.
This is about a woman named Sherry who has just been released from prison. She's a recovering addict, emotionally troubled, and it is hinted at that she's the victim of abuse at the hands of her father. The film follows Sherry as she tries to rebuild her life and start over, specifically in the area of patching up things with her family, most of her her young, estranged daughter. This film feels like it was tailor-made for Gyllenhaal, and that's definitely a good thing. She gives a finely observed and realistic performance that is moving and does a great job of hitting all the right notes without being too vacant or too over the top. She dominates things, but she doesn't carry the whole thing, though. She's got a terrific cast behind her, and they turn in some really good performances as well, especially Danny Trejo. It's nice seeing him play against type, and it adds more authenticity to the proceedings since he's playing a role that mirrors part of his own life and experiences. Another mention I'd like to make is Brad William Henke as Sherry's brother. That guy deserves more work andrecognition. The film is very much an indie, and it shows. It's got a nice sense of grit and realism, but not in a trashy or exploitative way. It's honest, emotional, and sometimes rather painful, but it's well done and pretty real. My only real gripe is that they could have dealt with the father issues a little more, and handled it in a slightly more satisfactory way. Aside from that, this is a really good drama about redemption and hope.
Chris Weber
Super Reviewer
Sherrybaby Quotes
There are no approved quotes yet for this movie.