She's All That
(1999)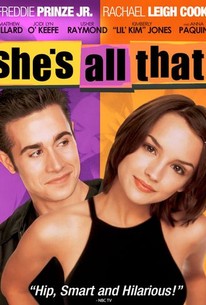 Movie Info
In the tradition of Clueless, Sixteen Candles and The Breakfast Club, comes a hilarious new comedy about sex, style and popularity... starring Hollywood's hottest new teenage talent. At a snobbish high school in Los Angeles, Laney is not your typical student. In a place that's all about appearances, she's all about art, truth and making a difference in the world. She never attracted much attention until the most popular guy at school bet his buddies he could transform her into the prom queen. Now, he has five weeks to make her over, take her out and set her up. But they have no idea who they're bargaining with.
News & Interviews for She's All That
Critic Reviews for She's All That
Audience Reviews for She's All That
½
"She's All That" is probably one of the highest points in Freddy Prinze Jr.'s career, and even though this film is pretty run-of-the-mill and 100% predictable, you can definitely have some fun with it's 90's nostalgia feel. After a bet from his best friend (Paul Walker), Zack must turn the nerdiest girl in school into his prom queen. Whatever you think will happen in that type of premise, happens, and nothing really new is brought to the table, but the characters are likeable and the soundtrack is nice to hear. With some pretty one-note scriptwriting and some average cinematography, "She's All That" falls into the category of very forgettable films. Although the cast is good and the cliches are enjoyable for once, it is not strong enough to warrant a recommendation. Sadly, this is just another 90's high school romance that will flutter away with all the others.
Rachael Leigh Cook is hot, mm'kay? In trying to uglify herself though, she contracts an unfortunate case of Vapid Face Syndrome. To slake a hankering for classic 90s teen movie, I gave "She's All That" a re-gander and found that it hasn't held up like "10 Things I Hate About You" or "Clueless" or even the first two "American Pies." This "Pygmalion"-lite is deserving of its "Not Another Teen Movie" treatment with its easily recognizable stereotypes and suspension of disbelief. Ducky-esque Jesse is blustery and useless, and even the group dance to Fatboy Slim's "The Rockafeller Skank" (of which I never knew the title) seems lame and dated.
Alice Shen
Super Reviewer
An old favourite I recently rewatched. Yes, it's far fetched, particularly the casting of Rachael Leigh Cook as an ugly girl, but is just such a nice film, I don't really care. Great cast - whatever happened to Clea Duvall and Jodi Lynn O'Keefe? Never seem to see them anymore. Also small cameo by Sarah Michelle Gellar and fun to see a very young Anna Paquin. Freddie has a nice presence in this too. Nice 90's teen movie, one of the better ones.
Nicki Marie
Super Reviewer
She's All That Quotes
| | |
| --- | --- |
| Mackenzie Siler: | When was the last time you tweezed? |
| Laney Boggs: | What? |
| Mackenzie Siler: | I mean your eyebrows. |
| Laney Boggs: | Never, why? |
| Mackenzie Siler: | Ever watch Sesame Street? |
| Laney Boggs: | Yeah. |
| Mackenzie Siler: | You know Bert? |
| | |
| --- | --- |
| Laney Boggs: | Screw the dolphins. |
| Jesse Jackson: | A guy tried that last year, banned from Sea World for life. |
| | |
| --- | --- |
| Taylor Vaughan: | Jump up my ass, Zack. |