She's the One
(1996)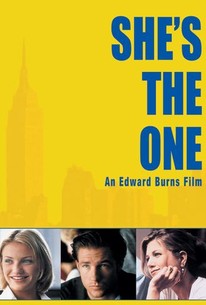 Movie Info
This is the second film by actor/director Ed Burns, his first being The Brothers McMullen. The two Fitzpatrick brothers, Mickey (Ed Burns) and Francis (Mike McGlone), would appear to have little in common, as the older is a rather volatile cab driver, the younger is a very settled stockbroker. Just prior to the time of the film, Mickey, after a whirlwind romance, married Hope (Maxine Bahns), one of his passengers. Francis has been married to his lifelong sweetheart (Jennifer Aniston) for some time. However, they are both very competitive about Heather (Cameron Diaz), an old flame of Mickey's. Mickey, who was once her fiance, left her when he found out she was sleeping with someone else. At the time of the story, Heather just happens to become a passenger in Mickey's cab, and they decide to finish exchanging belongings left over from their break-up. When Heather gives Francis (her current lover) the watch Mickey just returned to her, complications multiply. ~ Clarke Fountain, Rovi
Critic Reviews for She's the One
Audience Reviews for She's the One
½
Though the dialogue is usually sharp and funny (when not being blatantly redundant), the biggest problem of this comedy, besides the fact that it takes itself much more seriously than it should, is that all characters except the one played by Jennifer Aniston are so selfish and hateful.
Carlos Magalhães
Super Reviewer
The films of Edward Burns are very earnest, romantic, and they try to encapsulate the lives of New Yorkers in the mid-nineties. There's definitely a lot to love about this film, from its interwoven characters and their love lives, to the harsh realities of love being splattered onscreen, to the slightly detestable and yet likable Heather, played by the very talented Cameron Diaz. Most of the character development was spot on, and yet the dialogue was littered with clichés, which is the most uninspiring thing about this film. If it weren't for the great performances from Diaz, Aniston, and Mahoney I wouldn't be toting those aspects, because without them the dialogue falls flat. Maxine Bahns, who was Burns' real life girlfriend at the time, is particularly stiff and there's no chemistry between her and Burns onscreen. By the end of the film little has been resolved and we're left with characters who aren't as complex as we had previously hoped.
Spencer S.
Super Reviewer
½
Mr. Fitzpatrick: Let me get this straight. You don't want to cheat on your girlfriend with your wife?  Like with the other Edward Burns movies I have seen, I'm sort of in the middle here. He definitely has some skills as a filmmaker, yet his movies seem to be missing something. She's the One is a decent Romantic Comedy. It's not your typical romcom and I like it for that. Burns kind of reminds me of a not as a great Woody Allen. He writes, directs and stars in all of his stuff, he deals with the same subjects in his movies and there is something about each scene that tells you it is a Burns movie. Now after just a few experiences of watching his movies I feel like I could see a scene from any of his movies and know right away it's his, just like with Woody Allen. She's the One is a watchable and likable "comedy," although I think of it more as a drama. It just seems like a key piece of a great movie is missing here and it just drags the whole movie down. I want to like this so much more then I do. There's a lot to like and yet a lot to scoff at and say "What the hell?"  I'll watch anything Burns does because he has a great skill that he hasn't totally realized yet. When he finds that last piece of the puzzle, it's going to be incredibly special.
Melvin White
Super Reviewer
She's the One Quotes
There are no approved quotes yet for this movie.