She-Wolf of London (The Curse of the Allenbys)
(1946)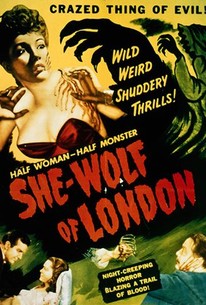 She-Wolf of London (The Curse of the Allenbys) Photos
Movie Info
In this thriller, set in early 20th-century London, a woman tells her innocent young niece that the blood of the werewolf flows through her veins and that she is responsible for a series of recent murders. The distraught lass immediately breaks off her engagement, but her devoted lover begin investigating.
Critic Reviews for She-Wolf of London (The Curse of the Allenbys)
Audience Reviews for She-Wolf of London (The Curse of the Allenbys)
More of a murder mystery than a monster movie, She-Wolf of London is only mildly suspenseful and doesn't deliver any scares. After a series of animal attacks by a "She-Wolf," Phyllis Allenby begins to believe her family's curse is real and that she is the werewolf behind the murders. June Lockhart leads the cast and gives a strong performance that sells her intense fear and concern for her family. But it's pretty clear that the film isn't interested in a female wolf, as it shies away from showing the murderer or any kind of transformation. So instead there's a lot of melodrama with Phyllis pushing away her aunt and her fiance, and them trying to convince her that the werewolf curse is a silly superstition. Uneven and poorly paced, She-Wolf of London promises one kind of movie but delivers another.
Dann Michalski
Super Reviewer
A very short 61 minute Universal Film staring June Lockhart when she was 24 years old, 14 years prior to being Timmy's Mom on Lassie, Four women live together June plays the part of being the sole inheritor of and estate and is coming of age. There is a female werewolf running about, at least that's what were lead to believe, but is it June, is there a she wolf, well you will have to watch to find out, Another 4 star old school movie.
Bruce Bruce
Super Reviewer
I knew it, I'm a werewolf! This is an interesting tangent in the old horror film genre, and if you like werewolf movies you might like to check it out, but otherwise it's kind of a silly movie.
She-Wolf of London (The Curse of the Allenbys) Quotes
There are no approved quotes yet for this movie.