Shifty
(2008)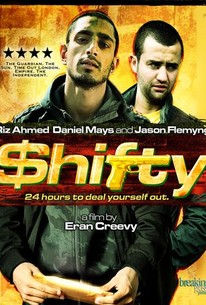 Movie Info
Inspired by writer/director Eran Creevy's own teenage experiences, Shifty tells the tale of a man who returns to his old neighborhood on the outskirts of London, ostensibly to attend a party but more specifically to check up on an old friend. It's been a long time since Chris (Daniel Mays) left town, and now that he's finally returned, he's eager to check up on Shifty (Riz Ahmed), the lifelong friend he left behind. As it turns out, things aren't going to well for Shifty; not only has he taken to dealing drugs supplied by local heavy Glen (Jason Flemyng), but the constant struggle to keep his activates secret from his self-righteous brother Rez (Nitin Ganatra) has resulted in some serious family tensions. Over the course of the next twenty-four hours, former best friends Chris and Shifty will not only confront the dark secrets that once drove Chris from town, but also work to free the desperate Shifty from a volatile situation that could spell danger for both of them. ~ Jason Buchanan, Rovi
Critic Reviews for Shifty
Audience Reviews for Shifty
A well written, day in the life of, which is different to other drug films. It involves you from the start and there's a lot of guessing going on right until the end. Highly recommended to fans of British film.
Sophie Burgess
Super Reviewer
Firstly, the film looks fantastic for the budget it was made on. But innovative and quality film production does not make a great film in itself. Shifty has some fascinating aspects but it in the end is another average London drug street film. However Riz Ahmed's performance is top; he is charismatic and likeable even though his character is a bit of a selfish so and so. This performance and its macro budget ingenuity just edges it past being bog standard average
Hassan Vawda
Super Reviewer
½
Not so much a story in a traditional sense, more of a ?day in the life of? type of tale and in this case it?s through a drug dealer?s eyes. Whilst this is true in terms of storyline build up, perhaps the true meaning of the film is about relationships of all kind, family, friendships, the loyalties that come from them, right to the non-stereotypical drug users and their relationship with drugs. Well acted, very realistic, but as a result suffers a slightly slow paced urban thriller. Regardless, it?s a worthy British Drama and well made for what appears to be a very low budget film. A particularly good performance from Riz Ahmed.
Lady D'arbanville
Super Reviewer
Shifty Quotes
There are no approved quotes yet for this movie.