Shine
(1996)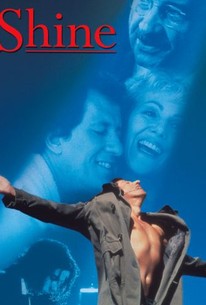 TOMATOMETER
AUDIENCE SCORE
Critic Consensus: Featuring a strong performance from Geoffrey Rush, Shine succeeds in telling a compelling, inspirational story without resorting to cheap sentimentality.
Movie Info
This wrenching true story chronicles the tumultuous life of Australian concert pianist David Helfgott, whose domineering, over-protective father drove him to madness. David is heavily burdened by emotional scars inflicted by his father -- scars that when opened cause devastating tragedy for much of David's adult life.
News & Interviews for Shine
Audience Reviews for Shine
½
Famous bio-pic is indeed well done and engaging as we follow a young piano prodigy from his formative years to modern day, with the emphasis on his manic relationship with his father. In typical Hollywood fashion, while Rush won Best Oscar for his fragile portrayal of a wounded artist, the film is actually carried by Armin Mueller-Stahl whose work as the "tyrannical father" sails way past convention to reveal a complex picture of an artist himself denied. This is the film George Lucas meant for "Phantom Menace".
Kevin M. Williams
Super Reviewer
Bittersweet biography dealing with Australian concert pianist David Helfgott who suffered from mental illness. Most of the film concerns his formative years as a musical prodigy. He escapes the tyrannical rule of his father who disowns him after he departs for London upon being offered a scholarship to the Royal College of Music. Armin Mueller-Stahl makes an indelible impression as his domineering father in a truly unsympathetic portrayal. Helfgott's ongoing obsession with executing Rachmaninoff's technically demanding Piano Concerto No. 3 ultimately reaches an exhilarating manic apex. The narrative is a bit murky when it comes to Helfgott's subsequent psychological breakdown. Are his problems caused by the virtually unplayable composition or the result of physical and mental abuse by his father? It's never quite clear, but regardless, the scene that highlights the performance of this piece is a beautifully edited sequence of talent and dementia. Geoffrey Rush won the Best Actor Oscar for his work in the role of the virtuoso as an adult, but Noah Taylor actually registers much more screen time with his sensitive depiction as the adolescent David.
Mark Hobin
Super Reviewer
½
Few words fill a critic with such dread as "the triumph of the human spirit". There have been legions of films about individuals coming through against all odds, and for every time a director gets it right (The Elephant Man, Ed Wood, The Madness of King George), we get a gross of self-important, 'worthy' films, whose attempts at genuine emotional engagement fall desperately short of the mark. Shine is one of the better examples of this genre, containing a number of good performances and attempting to explore some interesting ideas. But it is not a complete success and fourteen years after its Oscar glory, its flaws are plain to see. For its first forty-five minutes, Shine is a well-made, technically accomplished biopic of piano prodigy David Helfgott which manages to get to grips with some of the issues which resulted from such an extraordinary amount of talent. We are given a father-son relationship which on the surface seems straightforward, but which is actually more nuanced than first appears. In the initial scenes between Noah Taylor and Armin Mueller-Stahl, it feels like a standard proud father or pushy parent relationship. But as the drama unfolds we begin to understand the father's own conflicts surrounding music and the pressures surrounding both characters. Both father and son are essentially reacting to the extraordinary talent bequeathed to David. David's response is initially to obey his father, both by winning competitions and by practising to be as good as he can. The father's response is oppressive, at least to us, but it is motivated both by regret of his own missed opportunities and by a desire for David to be "a winner". On a couple of occasions he mentions how he saved up to buy a violin, only for his own father to smash it in front of him. Mueller-Stahl is conflicted by the desire to avoid that mistake, but at the same time a genetic desire to control his son. Hence he encourages him to play but refuses to pay for outside lessons or to allow David to go to America. Several reviews of Shine have pointed out the factual inaccuracies in this portrayal, claiming that Helfgott's upbringing was nowhere near as oppressive as the film depicts. While the film may be guilty of telling the 'Hollywood version' of events, it just about gets away with it at the start because the ideas it is exploring are both interesting dramatically and pertinent to the character. As in The Elephant Man and Ed Wood, it doesn't always matter that the facts aren't completely in order, so long as the events are cohesive with the artistic intentions of the writer and director. Shine explores the idea that music is all-pervasive: it surrounds and influences every human action, whether it is celebrated as high art or dismissed as base cacophony. It also manages to make highbrow classical music incredibly interesting, even to those of us who couldn't care less about Rachmaninoff. Sir John Gielgud's flowery speeches as he describes the conflicts in "the Rach Three" are indicative of a batch of characters who are utterly in love not just with individual pieces but the whole concept of music. This is echoed in Scott Hicks' direction; during Noah Taylor's performance, he shoots the piano and Taylor's hands from every conceivable angle, both to show the actor is actually playing the music and to get us caught up in the invisible battle between the notes. Such decisions, however, are the beginning of a number of problems which eventually hobble the movie. Having gone to so much trouble to replicate the music on film (right down to Geoffrey Rush acting as his own hand double) Hicks spoils it all by resorting to clichéd slow motion during the pivotal performance. We end up being impressed by Taylor's recital and the level of physical exertion, but slowing down the film to show his hair being bathed in sweat is simply unnecessary. Such a device takes all the momentum out of the music, and after this sequence the film never really recovers. Melodrama in itself is not a bad thing, but Shine is guilty of a number of unnecessary concessions towards it, either in a plea for sympathy or as a means of moving the plot forward. There are a number of plot holes which are slightly troubling when trying to piece the film together. For instance, David Helfgott arrives at the Royal College of Music in London straight after walking out on his family: how did he get the money for the trip, or a passport for that matter? In the second half of the film, after Taylor has disappeared from our screens, the plot begins to barrel along at a breakneck pace so that we miss out on a lot of potentially interesting scene. To some extent this is understandable, since Hicks' probably didn't have the money to cast a multitude of different actors to play Helfgott as he aged over a period of ten years. Nonetheless the film feels hurried and begins to lose sight of its thematic intentions. One could argue that Hicks is attempting to tell the story as Helfgott would: fast-talking, jabbering and unable to focus on anything for too long. But this theory doesn't hold much water when you consider the viewpoint of Hicks' camera, which only shows David's POV on a select few occasions. Even more problematic than this is the film's tendency in his second half to resort to biopic clichés, as if the filmmakers were deliberately positioning it for awards. Being a film about the triumph of the human spirit, we know that our protagonist is going to come to terms with their difficulties and everything will be happily resolved. But the pandering to convention extends further than just the plot outline. Geoffrey Rush, who is a talented actor, plays the adult Helfgott as essentially a holy fool, borrowing heavily from Dustin Hoffman's performance in Rain Man. The film is at heart an actors' romp, with only Taylor coming through with the goods and giving a genuinely brilliant performance. Rush is okay, but both he and Lynn Redgrave are tuned to a high setting, with arms and big emotions flying all over the place in an increasingly irritating manner. Mueller-Stahl mumbles his way through in a decent but unremarkable performance, and Gielgud is clearly enjoying himself as David's tutor, who can no longer play the piano because of a stroke. It's not a million miles from his performance in The Elephant Man, albeit with a little more pomp and a lot less gravitas. The only other real surprise with Shine is the amount of nudity. The film is a 12 certificate, and therefore we don't get anything that could be called 'full-frontal'. But several sequences involving nudity seem to come almost out of nowhere with little or no bearing on the plot. There are several shots of Helfgott, played by both Taylor and Rush, wearing nothing from the waist down, including a bizarre sequence of Rush bouncing on a trampoline in nothing but a pair of headphones and a tatty overcoat. Oddest of all is the scene where two rebellious pupils take David to a club, at which point the camera cuts to near-naked dancers and Marc Warren as a drag queen. Scenes like this are not exploitative, but they aren't exactly central to the plot. In the grand scheme of films about the triumph of the human spirit, Shine does better than most but comes nowhere near the likes of Ed Wood or The Madness of King George. As an examination of mental illness it is neither as compelling nor as heartbreaking as A Beautiful Mind, and even when taken as a full-on melodrama, it is a lot less satisfying than Intermezzo, let alone The Red Shoes. It's worth seeing for the central performances and a number of visual touches which prevent it from slipping into the realm of TV movies. But it has precious little else to stand on, and is further proof that the Academy should not always, if ever, be taken at its word.
Daniel Mumby
Super Reviewer
Shine Quotes
| | |
| --- | --- |
| Prof. Cecil Parks: | you must play as if there is no tomorrow. |
| Prof. Cecil Parks: | You must play as if there's no tomorrow. |