Shining Through
(1992)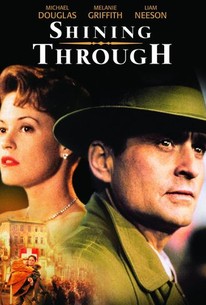 Movie Info
Kewpie-doll voiced Melanie Griffith does a sexed-up Nancy Drew turn in David Seltzer's adaptation of Susan Issacs' novel Shining Through. Set during World war II, Griffith plays Linda Voss, a spunky New York girl who applies for a job with international lawyer Ed Leland (Michael Douglas). Ed hires her immediately when he finds out that she speaks German fluently. The reason Ed is so interested in Linda's language skills is because Ed is an undercover OSS officer who needs a German translator. Their business relationship translates into love, but when America enters the war, Ed abandons his law practice to become a full-time spy. Utilizing Linda's charms, she travels to Berlin and infiltrates the Nazis as a domestic to try to discover information about "a bomb that can fly by itself." But Linda has personal as well as patriotic motives for agreeing to go undercover, since she has Jewish relatives in Berlin and wants to find out their whereabouts. ~ Paul Brenner, Rovi
Critic Reviews for Shining Through
Audience Reviews for Shining Through
Totally unrealistic. I mean, really? Secretary who happens to know German turned into full-time secret spy in Nazi Germany? I guess if you don't think too much about it, you can enjoy it.
½
This war-drama of the Forties with Michael Douglas and Melanie Griffiths is so clever and effective homeage.
Dean McKenna
Super Reviewer
If you don't think too much, its a good movie. Melanie Griffith spying for the Americans as a German domestic even though her story about her background doesn't hold up. Michael Douglas as a spy who doesn't speak any German. Surely the Germans were not that stupid.