Ship of Fools
(1965)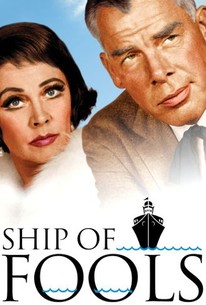 Movie Info
The first person the audience sees in Ship of Fools is dwarf Michael Dunn, who speaks to viewers directly and acts as a Greek chorus throughout the film. It begins on the deck of an ocean liner travelling from Vera Cruz to Bremerhaven. The time is the 1930s, so close and yet so far from war. The cross-section of humanity on board includes ship's doctor Oscar Werner, Spanish political activist Simone Signoret, aging coquette Vivien Leigh, hedonistic baseball player Lee Marvin, philosophical Jew Heinz Ruhmann, a smattering of pro- and anti-Hitlerites (Jose Ferrer plays the nastiest and most vocal "pro") and young lovers George Segal and Elizabeth Ashley. Yes, it's Grand Hotel at sea, a feast for stargazers and an endurance test for those who aren't comfortable with non-stop speechmaking. Despite such lines as "What can the Nazis do? Kill all six million of us?," Ship of Fools manages to stay afloat throughout its 148 minutes. Michael Dunn was nominated for an Academy Award for his interlocutory characterization; the rest of the performances range from brilliant to merely filling up the room. Other Oscars were presented to cinematographer Ernest Lazslo and to the art-direction staff. Ship of Fools was adapted by Abby Mann from the novel by Katharine Ann Porter.
Critic Reviews for Ship of Fools
Audience Reviews for Ship of Fools
Kind of like the Love Boat but with fools as opposed to lovers. This entourage film is delightfully funny despite the grim circumstances.
John Ballantine
Super Reviewer
A second class luxury liner leaves from Mexico on its way to Germany in the days before WWll. Onboard a cross-section of humanity ... and their afflictions ... there in the twilight zone that voyages can be and seeking resolutions when we know that resolutions are only a bedtime story we tell children, and ourselves. Uneven yet still compelling work.
Kevin M. Williams
Super Reviewer
½
Compelling, tragic character study. Superb acting by Signoret, Werner and Vivien Leigh.
Ship of Fools Quotes
There are no approved quotes yet for this movie.