Shiri
(2002)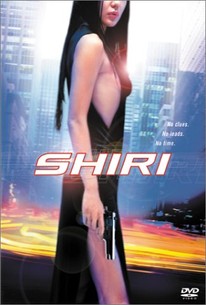 Movie Info
Two of Korea's top secret intelligence agents investigate the murder of a notorious arms smuggler. The agents discover that the murderer is a mysterious sniper who has stolen a top-secret liquid bomb that could lead to the outbreak of an international nuclear crisis.
Audience Reviews for Shiri
A great action thriller set in South Korean with Yunjin Kim of Lost. A great script with a few twists and a great ending.
Anthony Valletta
Super Reviewer
Hollywood action blockbuster, made in Korea. You will feel the strong influence of 90's Hollywood action flicks, just set in a Korean setting with Korean actors. You have your Hollywood staples; Doomsday bomb, rogue unit with questionable motives, countdown timer, troops with questionable aim. So, the question is, how does Shiri compare to the American blockbuster? The answer is, quite well. The film takes a definite shift in tone at The Big Reveal (which I predicted quite early). Both halves of the film are quite entertaining, and the ending is poetic. I wish Park's motives had been a little better established, but I'm probably expecting too much from a Hollywood; sorry, Korean action flick. Nice action, good special effects, and a surprisingly solid story with some nice twists and turns. I like how the action is able to slow down at times to allow us more attachment to the main characters. Recommended viewing for action fans.
Shiri. A fish that can be found in both North and South Korean fresh-water streams. A pretty appropriate title for this film. You'll understand if you watch it. Min-Sik Choi gives a nice monologue about it during the film as well.
What we have here is Korean's take on a cop action film. Now I have seen many Hong Kong films of this type, but what this film has on all of those, excluding Johnnie To films, is a good story.
The first half of this film plays out like a typical police film. It moves quite slowly, as to try and build up the characters, but it becomes a little boring at some points. Luckily, the second half of the film is much better. The action picks up and the story unfolds, leading to a pretty good ending. The fish concept for this film is also a unique touch.
Another place where this film excels is in the acting department. All main characters, Suk-Yu Han, Min-sik, Choi, Yunjin Kim, and Kang-ho Song put on better than decent performances. It is really nice to see Min-sik Choi and Kang-ho Song on opposite sides of the law.
There isn't a ton of action as you may be led to believe, not to mention the poster can be misleading, but there is enough of it. The shootouts are actually pretty good, especially the one that starts in the auditorium, but the shaky camera work takes away from them a bit. I know this is a technique used in these types of situations, but it isn't that successful here.
This film is no Heat by any means, but it is still a more than adequate action-flick. Should you find the time to watch this film, I would say go ahead.
Shiri Quotes
There are no approved quotes yet for this movie.