Sholay
(1975)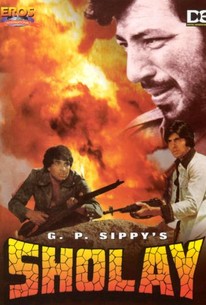 Movie Info
In this Indian action/adventure, Thakur (Sanjeev Kumar) has hired two small-time criminals to do some dirty work for him that he cannot get the police to do. He is a retired police inspector and seeks revenge on a bandit and his gang for mutilating him, murdering his family, and terrorizing the poor of his region. Veeru and Jai are agreeable, and soon the gangleader, Gabbar, and his henchmen have reason to regret their previous behavior.
Critic Reviews for Sholay
Audience Reviews for Sholay
One of the greatest and unforgetable Bollywood Classics. R.I.P Amjad Uncle.
Jab bache rote hain to maa kehti he soja warna Gabbar Singh ajayega.
saab mene aap ka namak khaya he Ab Gholi Kha
TRIVIA:: This film was directly inspired by the spaghetti westerns of Sergio Leone, by Akira Kurosawa's Shichinin no samurai, Bandidos (1967) among others. Some critics at the time even began calling it a curry western. Amitabh Bachchan was almost killed at the end of the movie when a stray bullet from 'Dharmendra' missed him by inches.
My first Bollywood film. It's pretty badass, a little indulgent at 3+ hours, but that's par for the course with these films. A curry western with heavy American influences has a little bit of everything. Suspense, Slapstick, Romance, Singing and Violent Bloodshed India's first 70mm film.
Ken Stachnik
Super Reviewer
½
This film is long. I think that if it would have been shorter I would have enjoyied it more.
Marion Ravenwood
Super Reviewer
Sholay Quotes
There are no approved quotes yet for this movie.