Shoot 'Em Up
(2007)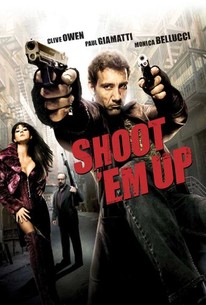 TOMATOMETER
AUDIENCE SCORE
Critic Consensus: As preposterous and over-the-top as Shoot 'Em Up may be, its humor and non-stop action make for a very enjoyable film.
Movie Info
A mysterious man delivers a baby during a shootout and is entrusted with protecting the child from criminals out to kill it.
Critic Reviews for Shoot 'Em Up
Audience Reviews for Shoot 'Em Up
A great all out action film. Totally over the top action and violence in this rather slick, stylish film. It's a mix of Sin City, Kill Bill, Smokin' Aces and a hint of Pulp Fiction to. So if you like any of those, you'll get a blast from this and know what to expect!
½
[img]http://images.rottentomatoes.com/images/user/icons/icon13.gif[/img]
Directors Cat
Super Reviewer
I expected crap CGI nonsense and was pleasantly surprised. The first thing I noticed about this crazy 'robocop/total recall' topping death tollathon was the action gun battles are really well done and look realistic, there's no obvious CGI effects in there and its all very gritty and cool, over the top but cool. The whole thing is really dumb lets be honest, the story is awful and the main lead, Owen, is totally miscast in my opinion, he's just not this kind of action man and can't fit the role. It is funny though, gives Arnie a run for the money with wisecracks after gunning down the latest henchman...of which there is no end of of course. There are some stupid sequences that do spoil the realism and hardcore violence, jumping out of a plane with a following midair gun battle? jumping into a car through a sunroof from off a tall building? and catapolting through a windscreen after crashing head on with a van and landing safely inside to comfortably shoot everybody!?. All of which are too computer gamey for me, but you have to expect that with this type of film, after all the title says it all. Its good for the gun battles and bloodshed, if it was Arnie I would be wetting myself with glee shame it isn't. But its good to see a good old fashioned bloodbath, and for once with little CGI shit.
Phil Hubbs
Super Reviewer
Shoot 'Em Up Quotes
| | |
| --- | --- |
| Smith: | You know how I'd break your finger, I'd kick you in the ass! |
| | |
| --- | --- |
| Hertz: | The leader that stays in the rear, takes it in the rear. |
| | |
| --- | --- |
| Smith: | Nothin' like a good hand job |
| Smith: | Nothin' like a good hand job. |
| | |
| --- | --- |
| Smith: | *eats carrot* what's up dock? |
| Smith: | [eats carrot] What's up dock? |
| Hertz: | aww you're a wascally little wabbit |
| Hertz: | Aww you're a wascally little wabbit. |