Shoot the Piano Player (Tirez sur le pianiste)
(1962)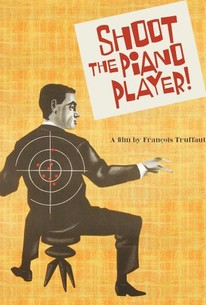 Shoot the Piano Player (Tirez sur le pianiste) Photos
Movie Info
Francois Truffaut's loving homage to Hollywood gangster films is less a plot-filled film noir than a free-associative meditation on the genre. Charles Aznavour stars as a one-time concert pianist who gained fame as Edouard Saroyan but has since changed his name to Charlie Kohler and plays honky-tonk in an out-of-the-way saloon. His self-imposed exile is shattered by the appearance of his mobster brother Richard Saroyan (Jacques Aslanian). Richard and his other brother, Chico (Albert Remy), are on the lam from gangsters they've double-crossed. Charlie helps Richard and Chico get away, but he now finds that his life, along with his younger brother Fido's (Richard Kanayan, has been put into jeopardy, having gotten mixed up with gangsters Momo (Claude Mansard) and Ernest (Daniel Boulanger) who are pursuing Richard and Chico. Momo and Ernest keep an eye on Charlie's apartment and, although they don't get Fido, they manage to kidnap Charlie and Lena (Marie Dubois), a co-worker with whom he has fallen in love. But when Ernest runs a red light and is pulled over, Charlie and Lena escape the gangsters' clutches. They take refuge in Lena's apartment, where Charlie sees a poster for a performance by Edouard Saroyan, causing Charlie to think back upon the circumstances that had led him to this moment in his life. Lena and Charlie make love, and Charlie returns to his apartment, only to discover Fido has been kidnapped. Lena and Charlie then head back to his club, where they plan to quit their jobs and try to find Fido. ~ Paul Brenner, Rovi
Critic Reviews for Shoot the Piano Player (Tirez sur le pianiste)
Audience Reviews for Shoot the Piano Player (Tirez sur le pianiste)
½
Applying all the techniques from the French New Wave, Truffaut's 'Shoot the Piano Player' combines unique wit and thrills that coerce into a solidly original work.
Kase Vollebregt
Super Reviewer
A second from François Truffaut, Shoot The Piano Player boldly shoots how the past haunts the present and shall continuously pester the future. Crime, drama, romance, and mystery right on target.
Jan Marc Macababayao
Super Reviewer
A heavily noir influenced crime drama about the inability to escape your past. For only his second feature, this film feels bold and mature. While it is much more stylized than his debut, it still retains a lot of the heart that made the 400 Blows so good.
Shoot the Piano Player (Tirez sur le pianiste) Quotes
There are no approved quotes yet for this movie.