The Shootist
(1976)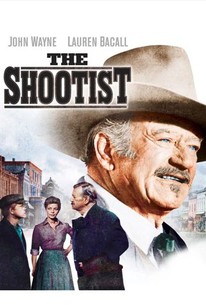 Movie Info
About ten minutes into The Shootist, Doctor Hostetler (James Stewart) tells aging Western gunfighter John Bernard Books (John Wayne), "You have a cancer." Knowing that his death will be painful and lingering, Books is determined to be shot in the line of "duty." In his remaining two months, Books settles scores with old enemies, including gambler Pulford (Hugh O'Brian) and Marshall Thibido (Harry Morgan) and reaches out to new friends, including a feisty widow (Lauren Bacall) and her hero-worshipping son (Ron Howard). Throughout the film, Books' imminent demise is compared with the decline of the West, as represented by the automobiles and streetcars that have begun to blight the main street of Books' hometown. ~ Hal Erickson, Rovi
Critic Reviews for The Shootist
Audience Reviews for The Shootist
The Shootist is a terrific Western starring the legendary John Wayne. The film was to be The Duke's final film role. The plot is about a hired that is dying of a terminal illness and looks in going out in fashion. Wayne is wonderful in his performance and this is a well executed Western and a classic that is a must see for genre fans. The film boasts a good cast alongside John Wayne, and each actor gives the film something unique. This film brings an end to an era of great Westerns. This is brilliantly directed and acted. Despite its imperfections, The Shootist is a fun and entertaining picture and like I said, John Wayne is great here, and he gives his all in a stellar performance that simply is a mesmerizing final Swan Song to his great career. Don Siegel direction is wonderful and he was able to capture something special with this film. The film at times could have been better; luckily Wayne's performance holds the hold thing together. Although not on par with the far superior Spaghetti Westerns, The Shootist is still worth watching for genre fans. The film bring a comedic tone at times that you can enjoy, but also there is a dramatic overtone as John Wayne on-screen says goodbye to the genre, he made famous. This is a fine, final picture that is a must see for John Wayne fans or any genre fans looking for a standout picture that is among the best swan songs for an actor. The film lives on as a testament to John Wayne's talents and every ounce of the acting ability that Wayne possesses is displayed beautifully in a wonderful near flawless Western.
A touching film, heartfelt, as the Duke makes his final bow and he's fully aware that with him goes an era, the good and the bad. Here to say farewell are Stewart and Bacall, the old guard, and Ron Howard, the future. And the Duke makes his final bow.
Kevin M. Williams
Super Reviewer
There is something to be said about an old legend dying of cancer playing an old legend dying of cancer.
Randy Tippy
Super Reviewer
The Shootist Quotes
| | |
| --- | --- |
| Gillom Rogers: | Mr. Books, How is it you've killed so many men? My spread wasn't much bigger than yours. |
| | |
| --- | --- |
| Marshall Thibido: | Books, I want you out of town. These are law-abiding people here and I don't want any trouble. I can deputize as many men as I need to see that you leave |
| | |
| --- | --- |
| Dr. Hostetler: | Books, every few days I have to tell a man or a woman something I don't want to. I've been practicing medicine for 29 years, and I still don't know how to do it well. |
| | |
| --- | --- |
| John Bernard Books: | I won't be wronged. I won't be insulted. I won't be laid a-hand on. I don't do these things to other people, and I require the same from them. |