Shopgirl
(2005)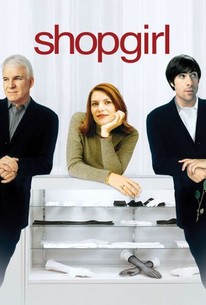 Movie Info
Based on Steve Martin's bestselling novella, 'Shopgirl' is a funny and poignant story of love in the modern age. The film catches a glimpse inside the lives of three very different people on diverse paths, but all in search of the same thing. Mirabelle is a "plain Jane" overseeing the rarely frequented glove counter at Saks Fifth Avenue in Beverly Hills. An artist struggling to keep up with even the minimum payment on her credit card and student loans, she keeps to herself until a rich, handsome fifty something named Ray Porter sweeps her off her feet. Simultaneously, Mirabelle is being pursued by Jeremy, a basic bachelor who's not quite as cultured and successful as Ray. When fate steps in, the outcome may not always be a storybook ending, because in the end...it was life.
News & Interviews for Shopgirl
Critic Reviews for Shopgirl
Audience Reviews for Shopgirl
This movie is small, quiet and very honest. It was kind of interesting the way, even though the film is called Shopgirl, Mirabelle is pretty much the least interesting character in the film. Ray is probably the most interesting, while Jeremy is an insufferable caricature of a twenty-something screw-up. This movie reminded me a lot of Closer, in that it had little in the way of forward-momentum story-wise. The core of this film was in the way its characters interacted and shaped each other. It bothered me a little bit that all it took to turn Jeremy from a self-absorbed, awkward twerp to a real human being was a little while on tour and listening to an audiobook about relationships. It seemed like something of a cop-out; there's really no social Band-Aid solution for social ineptitude. If there were, I'd be going around fixing people left and right. One of the only other things I didn't like was the voice-over narration; I would have much rather made up my own mind about the proceedings, as opposed to being told what to think about it by Ray (of all people). Ray isn't the bad guy here, any more than Jeremy is the good guy, and I think to paint them as such really sells this complex little movie short. In fact, I think the biggest pleasure I got from this movie is figuring the characters out. I could tell when Ray was talking to his therapist that he and Mirabelle were going to get hurt, if only because that's what happens when people want different things from their relationship and don't know about that conflict. This was an endlessly interesting movie, real and sweet and not so much funny as droll. I love puzzle films.
Emily Armstrong
Super Reviewer
A rare case where I have actually upgraded this a star from my original rating. I don't think I fully appreciated this movie until I rewatched it. I think originally I expected a chick flick, which it's not, as it is packaged in that way. This is much better than a chick flick! Claire Danes is fantastic as Mirabelle. I could really relate to her slightly awkward character. The depression angle was really well played. Originally I hated Jeremy as he's a bit yuck and stingy with money - no ones idea of a leading guy in a romance, but I found I warmed to him on a second viewing - well, compared to Steve Martin's Ray, who is not age appropriate and psychologically unwell himself, in a different way to Mirabelle. Just a really well played and quite sweet little movie.
Nicki Marie
Super Reviewer
½
I've said it before - I like stories about relationships, and this suits the bill. In it, Claire, Ray and Jeremy all learn quite a bit about love.