Shoplifters (Manbiki kazoku)
(2018)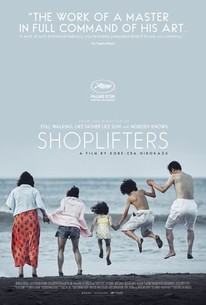 TOMATOMETER
AUDIENCE SCORE
Critic Consensus: Understated yet ultimately deeply affecting, Shoplifters adds another powerful chapter to director Hirokazu Koreeda's richly humanistic filmography.
Shoplifters (Manbiki kazoku) Videos
Shoplifters (Manbiki kazoku) Photos
Movie Info
After one of their shoplifting sessions, Osamu and his son come across a little girl in the freezing cold. At first reluctant to shelter the girl, Osamu's wife agrees to take care of her after learning of the hardships she faces. Although the family is poor, barely making enough money to survive through petty crime, they seem to live happily together until an unforeseen incident reveals hidden secrets, testing the bonds that unite them...
News & Interviews for Shoplifters (Manbiki kazoku)
Critic Reviews for Shoplifters (Manbiki kazoku)
Audience Reviews for Shoplifters (Manbiki kazoku)
In a recent interview, Lars von Trier reflected on when he won the Palme d'Or for Dancer in the Dark. He said that when a film is in competition for a prize, there must be consensus among the jury for it to win, so usually the most "middle of the road" entries win. While I have a less glamorous idea of what constitutes a middle of the road film, by Cannes Film Festival quality a more apt descriptor would be "d'Or-bait" for this year's winner, Hirokazu Kore-eda's Shoplifters. That's not really meant as a dig at the movie, it's just that I can see why it won and why I wasn't blown away by it. Among this year's Academy Award nominees for best foreign picture, Shoplifters has plenty to compete with as well. By most accounts, Roma is a masterpiece of humanism and realism while Cold War is a smoky cool Eastern bloc romance, but outside of cinephile circles I hear a lot grumbling about how they're all boring, overlong, or unengaging. It comes as no surprise that many who appreciate the more energetic side of the movie spectrum have reacted this way, but what was a bit bothersome to me was how underwhelming Shoplifters ultimately proved to be. Of course it impressed the Frenchies as the film is totally cine-literate. There's a fairly overt reference to the opening scene of Godard's Contempt, and what poverty-stricken family drama doesn't by definition owe a great debt to The 400 Blows? There's plenty of diffused kinetic action and deliberately avoided spectacle to boot. But aside from some smiles, a little laughter, and one particularly touching scene, I couldn't help but feel a little...well...robbed. Here I was expecting a game-changer, and all I got was a well made film. As always, I should have governed my hype better. The film concerns a makeshift family living in a hovel somewhere in Tokyo. They are grifters, shoplifters, and of ill-repute and they all love each other very much. Each has escaped or been stolen from their real families, in a sense "shoplifted" themselves from abuse, neglect, loveless relationships, and all the negativity that can come with the responsibility and obligations of a dysfunctional family. Much of the run time is dedicated to developing the characters and understanding who they are through their actions as opposed to overtly stating traits and backstory. In this sense it is fully realized and welcomes you in to their lives as they try to get by on their schemes and street smarts. Its substance far outweighs its style, and there's no score whatsoever, which makes for a perplexing watch in my book. Unfortunately, there's just not a lot to be visually enamored with past the performances and script. I can't say I was totally sold on it, but I can respect how it accomplishes its intent. When it inevitably gets released on Criterion in the next year or two I'll still be pining for a decent Faster, Pussycat! Kill! Kill! blu-ray.
K Nife Churchkey
Super Reviewer
½
Lots of people have explored the importance of the "families we choose" dynamic, but Koreeda makes the strongest case for it here. Its an immensely powerful movie, one that sees its fringe characters as fully complex humans.
Alec Barniskis
Super Reviewer
½
I guess you can pick your family in Japan. Very interesting and disturbing. Ten times better than Roma. (1-12-19)
Shoplifters (Manbiki kazoku) Quotes
There are no approved quotes yet for this movie.