Shopping
(1996)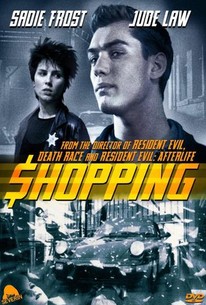 AUDIENCE SCORE
Critic Consensus: No consensus yet.
Movie Info
Though not as successful as Trainspotting (1996) or Lock, Stock and Two Smoking Barrels (1998), this high-energy, kinetic crime thriller belongs in the same British New Wave category as those later films. In a decaying British city of the near future, Billy (Jude Law) is an ex-con adrenaline junkie dating a Belfast native, the thrill-seeking Jo (Sadie Frost). Billy and Jo are the leaders of a teen gang of "ram-raiders," car thieves who jack an automobile, ram the vehicle through the front of a store, and steal whatever booty they can carry before the authorities arrive. A typical ram raid ends up in a high-speed pursuit by the police, which is all a part of the game for Billy, Jo, and their followers. However, a local drug lord, Tommy (Sean Pertwee) doesn't like the teen crooks infringing on his business. His opposition to their scheming leads to a deadly car race that plays out like a game of post-modern "chicken." Following the release of Shopping (1994), writer-director Paul Anderson went in a different direction than contemporaries Guy Ritchie and Danny Boyle, opting to create slick Hollywood science fiction films such as Mortal Kombat (1995), Event Horizon (1996), and Soldier (1998).
Critic Reviews for Shopping
There are no critic reviews yet for Shopping. Keep checking Rotten Tomatoes for updates!
Audience Reviews for Shopping
Before he went to Hollywood and started directing crap, Paul WS Anderson proved he actually had some talent with this tale of disenchanted youth. There's still very much an ironic "video game" element here, and time hasn't been great to it...and yet you wonder what might have happened if Anderson hadn't been corrupted by the big Hollywood dollar signs.
Marcus Woolcott
Super Reviewer
Not very good at all. There were bits and pieces that I did like but in the end it all felt too contrived for me. Plus I'm pretty sure this was aiming at the raver/gamer subcultures (two cultures I've never had much interest in). Never was much of a Jude Law fan either. Anyways the deal is Billy likes to steal cars and shop lift. And he steals cars and shoplifts regardless of the consequences. The ultimate badass... except the film never went very deep into Billys psyche and made no attempt to explain, even vaugley, why he gets such thrills out of this lifestyle. Not that I have anything against stealing cars and shoplifting, but if a movie trys to take these two innocent enough past times on, I expect a point to be made by the end. There really isn't one to be found here other than the fact that Billy likes to steal cars and shoplift (since he's suppossdely the ulitmate bad ass... whatever.) A boring film that deserves to be forgotten. If it does have the cult following which it is apparently supposed to, then this is one of those cases that it is ill deserved. All it was really attempting to do was cater to a certain audience, who existed in a certain time and place. That culture has of course grown away from this embarassing footnote and so should have all of it's fans. Good enough for a watch I guess if you go for this sort of thing, but I was just bored.
Ed Fucking Harris
Super Reviewer
The only decent and good movie that Paul W.S. Anderson has ever made aside from Death Race, this just works really well and has a great backdrop and sense of style. Jude Law was the ultimate rebel with a love for good music, which is apparently hard to come by. It's an interesting plot that faintly reminded me of A Clockwork Orange, but didn't steal from it which was respectable. It's a very interesting take on the dystopian future that is very subtle and perfectly odd.
Conner Rainwater
Super Reviewer
Shopping Quotes
There are no approved quotes yet for this movie.