Shôrin shôjo (Shaolin Girl)
(2008)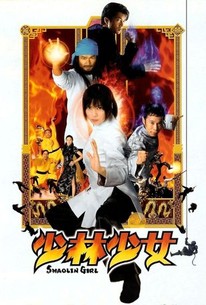 AUDIENCE SCORE
Critic Consensus: No consensus yet.
Shôrin shôjo (Shaolin Girl) Photos
Movie Info
Fresh after training in lacrosse at Shaolin Temple, Rin Sakurazawa returns to her home in Japan only to find her former dojo deserted and her ex-Shaolin sensei working as a cook. She joins the Seikan International Universtiy lacrosse team where she realises that things are not rosy there too.
Critic Reviews for Shôrin shôjo (Shaolin Girl)
There are no critic reviews yet for Shôrin shôjo (Shaolin Girl). Keep checking Rotten Tomatoes for updates!
Audience Reviews for Shôrin shôjo (Shaolin Girl)
½
Sports and martial arts comedy in one. Only problem is the mixing of the two. The first half of the film is feel-good fun and the second is all talk about "The Dark Side". Some of the fights in the climatic battles are well executed and others are very inventive. The final water fight would have been amazing if not for some ropey effects. These really ruin the mood as the film is not cheesy or bad enough for these effects to be endearing. The characters are mostly cut-outs found in any martial arts comedy but the film does have it's heart in the right place and some enjoyable moments. An 80 minute version would have been much more successful in my eyes.
Luke Baldock
Super Reviewer
½
Ever since the success of Stephen Chow's Shaolin Soccer, he's been asked time and again whether a sequel was in the works. There still isn't, but he sort of franchised the idea out to the Japanese and served as executive producer, so the outcome of the deal, was Shaolin Girl. Despite all the talk about teaming, it still boiled down to a one-woman whackfest for the last act. And if you're patient and were waiting to be rewarded with some proper combat for the finale, be prepared to be disappointed too. Even supporting appearances by characters from Shaolin Soccer couldn't save the day, and became ridiculous caricatures of themselves. Perhaps what could rescue Shaolin Girl, was a cameo by Stephen Chow who probably might have upped the credibility of this flick, but alas, knowing that it would stink, he rightfully kept his distance. And so should you, unless you're a fan of either Kitty Zhang Yuqi or Kou Shibasaki, then you can lap up all the close-up shots.
Steven Vincent Gee
Super Reviewer
½
There is a bunch of hype surrounding this picture because with Stephen Chow being one of the producers, everyone is thinking that this is the next Shaolin Soccer. Let me tell you that the concept is there because this involves martial arts and lacrosse, but a "Shaolin Soccer 2" this is NOT. It is not even a "Shaolin Lacrosse" as you would think the title to be. Believe me when I say that this is truly Shaolin Girl.
The biggest flaw is the plot. For a good portion of the film it feels like nothing is happening. It actually takes almost a full hour before the story starts to take shape and even then it ends up being not that spectacular. The movie is also split into 2 parts. The first hour is the so-called "Shaolin Lacrosse" concept. What this comes down to is the theme of teamwork. The second part of the film turns out to be a martial arts action picture. The lacrosse then comes back for the entire end credits.
Action is a good way to describe this picture because it sure as heck ain't a comedy. This is somewhat disappointing because comedy belongs in a movie like this. Sure, this picture is a little over the top and there are some small comedic elements, but you will hardly find yourself laughing. Yet, somehow this can be entertaining. I think it's the fact that you never feel like this movie is trying to be a comedy and that sort of lessens the blow a bit.
There is a good amount of CG, especially near the ending, and it is surprisingly fantastic. The martial arts, on the other hand, is decent. It really does have a "Kung Fu Hustle-esque" feel to it. This is where a lot of the CG comes into play.
Kou Shibasaki and the gorgeous Kitty Zhang, of CJ7 fame, hog all the airtime in the lacrosse portion of this movie before Shibasaki takes it the rest of the way. It is enjoyable to watch them both because they can act and both of their characters, especially Kitty Zhang, are really playful. Kitty Zhang speaks good Japanese too. Chi Chung Lam, from other Stephen Chow films, Toru Nakamura, Yosuke Eguchi, and Takashi Okamura round out the major characters. Oh yeah, I can't forget to mention the girls on the lacrosse team.
Shaolin Girl may sound like a disappointing film, but it is quite entertaining, depending on how you approach it. Don't go in expecting another Shaolin Soccer or an over the top comedy and you will be alright. Actually, don't go in expecting any type of comedy.
Shôrin shôjo (Shaolin Girl) Quotes
There are no approved quotes yet for this movie.