Short Cuts
(1993)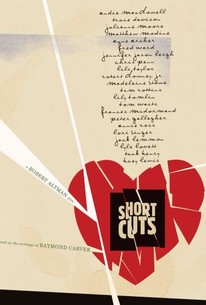 TOMATOMETER
AUDIENCE SCORE
Critic Consensus: Robert Altman's ensemble drama deftly integrates its disparate characters and episodes into a funny, poignant, emotionally satisfying whole.
Movie Info
Robert Altman stunningly interweaves 22 characters and nine Raymond Carver short stories -- relocating the settings from Carver's Northwest to Los Angeles during a spraying of malathion brought on by a Medfly epidemic. Altman intercuts tales of disconnection and emotional emptiness. The stories concern variations upon the theme of Los Angeles angst --a happily married couple, Ann (Andie MacDowell) and Howard Finnigan (Bruce Davison) have to deal with the deep emotions felt when their child is struck by a car before his birthday and lapses into a coma, while the baker (Lyle Lovett) of their child's neglected birthday cake sinks into a rage and torments them in their grief. Three men (Fred Ward, Buck Henry and Huey Lewis) leave on a much anticipated fishing trip, only to discover the drowned body of a nude woman floating in the river and decide to finish their fishing trip and ignore the corpse. A Los Angeles cop (Tim Robbins) uses his badge as an excuse to cheat on his wife (Madeleine Stowe). A pool cleaner (Chris Penn) resents his wife (Jennifer Jason Leigh) for her part-time job as a phone sex performer. A waitress (Lily Tomlin) is devoted to her limousine driver husband (Tom Waits), who is loving and concerned as long as he is sober. An irate husband (Peter Gallagher) decides to divide up his estranged wife's property in a unique way. A lonely woman (Lori Singer) who's a successful cellist wants to form a connection with her alcoholic mother (Annie Ross), a local jazz singer. A couple (Fred Ward and Anne Archer) is invited to dinner for the first time with two embittered spouses (Matthew Modine and Julianne Moore). Altman weaves the characters into an interconnected tapestry that exposes the shallow lives of this self-centered group of Californians.
News & Interviews for Short Cuts
Critic Reviews for Short Cuts
Audience Reviews for Short Cuts
After managing to escape largely cinematic abyss that was the 80s, Robert Altman had somewhat of a renaissance in the early 90s thanks in part to The Player, and this film. Short Cuts is a very loose adaptation of some of the writings of Raymond Carver, weaving together nine short stories and one poem into a tapestry of life in Los Angeles that follows about 22 characters over the course of a few days. Carver's stories were originally not connected, and took place in the Pacific Northwest, but Altman decided to blend them together, finding links or short cuts between them to make a sprawling and colorful mosaic dealing with themes of death, infidelity, misunderstanding, jealousy, and the quest for fulfillment. In many ways, I think I liked this more than Nashville, and found it even more accesible, despite the fact that this film is actually longer and a bit more rambling. Maybe it's just because I'm more familiar with the man's style and knew what to expect, which is something I couldn't say upon viewing Nashville. I still think that Nashville is far more of a masterpiece and definitely more of an important cinematic and cultural touchstone than this, though. Don't ask me to list all the actors who are in this. That'd be insane. I will list my favorites though: Tom Waits, Lily Tomlin, Julianne Moore, Frances McDormand, Peter Gallagher, and Jack Lemmon. Plus, there's tons of nudity, and sexuality is a major part of this film in general. Some of it does start to become frayed and fall apart by the end, and, of course, some of the stories are better than others, but I do love the fractured, interconnected nature of things, and how some of the stories run concurrent with one another. All in all, a film that was easier to get through than I might have anticipated. It's not a strict adaptation of Carver's work, and more like a jazzy, free form look at the essence of his stuff instead, but that's fine. If anyone could get away with doing that sort of thing, it was definitely Altman. As wonderful as this all is though, you might not want to approach this if you're an Altman newbie.
Chris Weber
Super Reviewer
½
The best american film of the 90's.
Lucas Martins
Super Reviewer
½
I count several of the stories in Cathedral, by Raymond Carver, among the best I've ever read. One of them, "A Small, Good Thing," even won the 1983 O. Henry Prize. This is the one story I already knew, the one that's most prominent in Altman's film adaptation, and it features Bruce Davison and Andie MacDowell as parents to a boy who's been hit by a car. It's among the more filmable stories that were chosen (Altman took eight, from more than one of Carver's collections, plus a poem), but it's one of the worst acted... until Jack Lemmon turns up. The Frances McDormand-Tim Robbins-Madeline Stowe love triangle might have showcased the best work, filmed as it was at the very moment all three came into their own, and the couple dynamic that Chris Penn and Jennifer Jason Leigh manage is notable as well, as are Robert Downey Jr. and Lili Taylor. But why focus so much on the acting? Look at the cast! This is one of the biggest, best, and (Huey Lewis??) bravest ensembles of my lifetime, if not of all time, and it's worth noting that the Golden Globes gave the group a special award for its performance. I trust that all of these talents signed on for the simple reason that Carver is an American legend. Like Altman's, his stories are ram-packed with subtleties, and attempting to carry them onto the screen - with the requisite simplification or exaggeration - must have been daunting for the director, not to mention an exciting challenge for the actors. Unfortunately, I'm of the opinion that the experiment failed. What Altman does to keep the movie going - with varying success - is a simple trick in which he interconnects the various stories. So, going back to the boy who was hit by the car, the woman driving (an excellent Lily Tomlin) is a waitress married to a drunk (Tom Waits) in a different storyline. The boy and his parents live beside a teenaged cellist with a bad relationship with her lounge-singing mother, which makes another storyline, (and so on like this). Interconnectedness is a reasonable approach, given that Carver wrote about the hard bits of American life as lived by common people - things that can and do ordinarily happen to any one of us - and I can even employ Edgar Allan Poe's term for what makes a good short story, "unity of impression," in Altman's defense. Each of Carver's stories make a unified impression in their own right, and they do so as a life's work, too. But in attempting to yoke them into one setting (L.A. instead of Carver's usual Pacific Northwest) and one weekend - almost the terms of the classical unities, which required that all action happen in one place and one day - Altman hopes to create this single impression, a sort of "Here's What Ray Carver Was All About" kind of film, during which he takes the viewer on a valuable tour that's a lot more like a big, baggy novel: a plausible sequence full of great dramatic moments. What goes wrong here, though, is that he ignores the fact that these were short stories, forgetting something else that Poe said about the form: you should be able to read it in one sitting. Jumping in and out of these stories, over and over again for more than three hours, is too jarring to allow the viewer to connect with most of characters at any level deeper than the surface, and it compromises the film's potential for that gut-level "whoosh" we've all felt at the end of a great story. When he taught Creative Writing, Carver would famously tell his students, "No tricks!" It's advice Altman would have done well to remember. Jumbling these stories together is a cheap trick that robs each of its individual power, taking eight narratives and turning them into something that barely qualifies as one. I write this days after finally seeing Paul Haggis's Crash, where a similar technique worked much better. In that film, (1h45m, approx.), the sequence of seemingly unrelated events was arranged in a clear, overarching plot. By comparison, Short Cuts leaves you investing a lot for no reward in the end, and forces you to make do with the little brilliant flashes along the way. Then again, maybe that's the point. Maybe that's how film differs from literature. But for my part, I'd much rather that Altman had made an anthology-like film, and tackled each story one at a time. Even better (though not for the box office), if it has to be three hours long, an anthology is something during which you can take breaks, to let each of these powerful stories set in. In the post-network TV environment - the still bright but fading age of the DVD box set - I'd love to see someone take a crack at Carver again, in a way that lets each of his stories do the work they set out to do, and engages the work on its own level, and respeciting that fact that Carver refused to write a novel, "driven toward brevity and intensity" as he claimed to be. (Next writing project: a letter. "Dear HBO," it begins...) By the way, in Canada, three Toronto writers have led the charge all year to declare 2011 "The Year of the Short Story," as challenge to the perception that the short story is a dying medium. If any of the above resonates with you, go to www.yoss2011.com for more short story love.
Daniel Perry
Super Reviewer
Short Cuts Quotes
| | |
| --- | --- |
| Dr. Ralph Wyman: | You know scientifically speaking Marian, there's no such thing as "beyond natural color!" |
| Dr. Ralph Wyman: | You know scientifically speaking Marian, there's no such thing as 'beyond natural color!' |