Shortbus
(2006)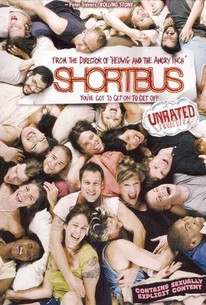 TOMATOMETER
AUDIENCE SCORE
Critic Consensus: The sex may be explicit, but Mitchell integrates it into the characters' lives and serves the whole story up with a generous dose of sweetness and wit.
Movie Info
John Cameron Mitchell's SHORTBUS explores the lives of several emotionally challenged characters as they navigate the comic and tragic intersections between love and sex in and around a modern-day underground salon. A sex therapist who has never had an orgasm, a dominatrix who is unable to connect, a gay couple who are deciding whether to open up their relationship, and the people who weave in and out of their lives, all converge on a weekly gathering called Shortbus: a mad nexus of art, music, politics, and polysexual carnality. Set in a post-9/11, Bush-exhausted New York City, SHORTBUS tells its story with sexual frankness, suggesting new ways to reconcile questions of the mind, pleasures of the flesh, and imperatives of the heart.
News & Interviews for Shortbus
Critic Reviews for Shortbus
Audience Reviews for Shortbus
If this firm didn't have considerable artistic and intellectual merit, it would be porn. But it does have merit and it has a LOT more to say than prurience or lust. In fact, such sentiments would be missing the point entirely. It's a brave and brash film about sexuality and relationships that makes one wonder -- why hasn't a film like this been made before?
Christian C
Super Reviewer
Okay, honestly, I feel like the sex scenes were put there just to be titillating. Not effective.
Jennifer Xu
Super Reviewer
½
I nearly turned it off in the first 20 minutes. Shocking, graphic sex. But when the main character (a sex therapist who can't achieve orgasm, played by Sook-Yin Lee) turns up at Shortbus - a sex club named after the little school buses, filled with "the challenged and the gifted," says the host - the content makes sense, and the almost-story begins to take shape as she and the other characters look for that perfect chemistry, however weird that may be. Mainly, I think this is a film about facing your biggest sexual difficulties straight-on, and by the end, it pulled me in, and the content didn't shock me anymore. A tough watch, borderline pornographic in the beginning, but a film with a big heart that I wound up understanding... more or less. There are some story holes. Decent, though.
Daniel Perry
Super Reviewer
Shortbus Quotes
There are no approved quotes yet for this movie.