Shot in the Heart
(2001)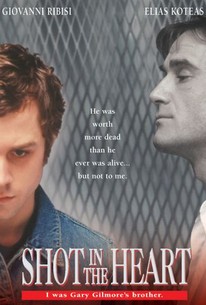 Movie Info
This gripping drama is based on the real-life story of Mikal Gilmore, a respected journalist whose brother Gary Gilmore was a felon convicted of murder. In 1977, after he was sentenced to death, Gary Gilmore generated international controversy when he demanded that his lawyers call off all attempts to appeal his sentence and requested that his execution be carried out as quickly as possible. As activists for and against the issue of capital punishment debated Gilmore's demand, his brothers Frank and Mikal stepped forward to request a stay of execution, in hopes of forestalling their brother's death despite his public requests. Based on the book of the same name by Mikal Gilmore, Shot in the Heart examines the close, if uneasy, bond between the Gilmore brothers, and the family history of abuse and violence that Mikal believed helped shape his brother into a killer. Shot in the Heart stars Giovanni Ribisi, Eric Bogosian, Lee Tergesen, Amy Madigan, and Sam Shepard; produced for the premium-cable service HBO, Shot in the Heart first aired on October 13, 2001.
Critic Reviews for Shot in the Heart
Audience Reviews for Shot in the Heart
½
maybe somewhat interesting for some as its about a prisoner on death row who?s family wants to try to get him to change his mind about his death sentence. (not electric chair some other way) Giovanni Rimbisi (sp?) plays the youngest son & the jail bird I think was the eldest of 3-4 brothers. The movie takes place (if I remember right) in the 70s. The mother loves Johnny Cash as well as at least one of the sons. To my surprise Paul Wesley (aka Stephan Salvatore of Vampire Diaries) plays the eldest bro when he was in his teens/20s. There?s a pic at the end of it where he looks like one of the NJ Devils players the way he?s smiling.) anyway I didn?t fall asleep but to me it was kind of boring BUT it was interesting. D
Kym (c my community profile) Ragarsson
Super Reviewer
If you're a Ribisi fan you must see this neglected little movie. He plays the brother of convicted murderer Gary Gilmore (The Executioner's Song) .Based on the book by Gilmore's brother.Ribisi is amazing in the range and depth of his performance.
Audrey Lush
Super Reviewer
Shot in the Heart Quotes
There are no approved quotes yet for this movie.