ShowBusiness: The Road to Broadway
(2007)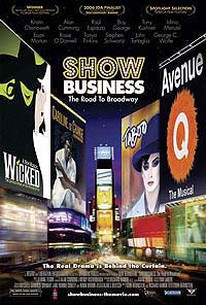 ShowBusiness: The Road to Broadway Photos
Movie Info
"Show Business" documents four original Broadway musicals from a backstage perspective: "Wicked," the retelling of "The Wizard of Oz" from the witches' perspective; "Avenue Q," in which puppets give life lessons intended for adults; "Taboo," the glamorous saga of Boy George's musical career; and Tony Kushner's highly personal story about a black maid working for a Jewish family in the south, called "Caroline, or Change." Berinstein seems to have unlimited access to the actors, rehearsals and final productions. She captures the dreams of the dream makers from inception, all the way up to the crowning glory of the Tony Awards. With a sure hand, she conveys both the creative and technical challenges of preparing a production for the towering inferno known as Broadway. As we follow each of these shows from inspiration to opening night, the truth of the notion that theater rests on the passion of its practitioners is borne out.
News & Interviews for ShowBusiness: The Road to Broadway
Critic Reviews for ShowBusiness: The Road to Broadway
Audience Reviews for ShowBusiness: The Road to Broadway
Sunil Jawahir
Super Reviewer
½
[font=Century Gothic]"Show Business: The Road to Broadway" is a blithely entertaining documentary about the 2003-2004 Broadway season focusing on four musicals - Wicked, Avenue Q, Taboo and Caroline, or Change, from the plays' conception to the 2004 Tony Awards with an amazing amount of backstage access. However, I do wish there had been some information for the uninitiated on such topics as applause which is heard after all plays and the TKTS booth at Times Square which offers half-price tickets to select Broadway shows on the day of performance.[/font] [font=Century Gothic][/font] [font=Century Gothic]In general, the documentary is concerned with what makes a Broadway play a success in this day and age when the critic of the New York Times no longer has the power of life and death.(By the way, no reputable critic should comment on the possible appeal of a play, just on how good it is. And critics vote on the Tony Awards.) The short answer is: who knows? As somebody mentions, producers invest in a show out of love. If they wanted a better investment on their money, then they should go to Atlantic City and play roulette instead. Some plays might have a cult following but that is not enough. What usually does not work is a big name which can actually work against a show.(By the way, is it just me or does Tony Kushner writing a musical just seem odd?) My best guess would be to find an idea that appeals to people who do not traditionally go to the theatre. For example, I generally do not like musicals but I think I would find Avenue Q or Wicked appealing. [/font]
ShowBusiness: The Road to Broadway Quotes
There are no approved quotes yet for this movie.