Showboy
(2002)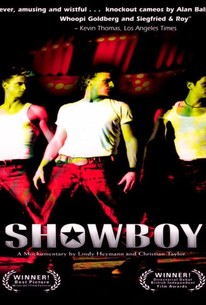 Movie Info
Written and directed by co-stars Lindy Heymann and Christian Taylor, Showboy is a comedic mockumentary about a Hollywood writer trying to make it onto the Las Vegas stage. Real-life British filmmaker Heymann takes her documentary crew into Southern California to report on Britons working in Hollywood. She overhears Taylor (a real writer and producer for the HBO series Six Feet Under) getting fired by executive producer Alan Ball. The documentary crew then follows Taylor to Las Vegas, where he proceeds to follow his dreams of making it as a star under the guise of doing research for a movie script. He rooms with veteran chorus member Erich Miller (then the star of the Vegas show +Jubilee) and undergoes a series of dance lessons, auditions, and other humiliations. Features cameo appearances by Adrian Armas, Siegfried and Roy, and Whoopi Goldberg.
Critic Reviews for Showboy
Audience Reviews for Showboy
½
Witty, touching, uncomfortable at times, and always funny. This is a clever and unique story about a person too proud to admit failure and the struggles we all face when life hands us lemons. A great independent film. Certainly worth seeing.
Christian C
Super Reviewer
A young British documentarian, Lindy Heymann, is given the assignment of finding a successful young British subject living in the US and making a career in show-business. She chooses as her subject Christian Taylor, a writer on the HBO series Six Feet Under. Just as she's about to film her final interview with him, she accidentally overhears him get fired by the shows creator, Alan Ball. Christian flees to Las Vegas, and Lindy follows. When she catches up with him, Christian, who does not realise she knows he was fired, claims he is doing research for a new script he is writing - an action thriller set in Vegas.
What follows is a brilliantly clever mockumentary, as Lindy pursues Christian (at first reluctantly) as he tries out for auditions as a dancer, in what he claims is part of his research for his script. The boundaries of truth and fiction blur as Christian soon becomes obsessed with the audition process and his research becomes ever more "method".
This is a very touching film. Christian Taylor (who really was a writer on Six Feet Under - though everything else is fictitious) is a brilliant presence and seems to have a natural talent; I frequently forgot that this was a mockumentary and not a documentary. The film raises questions about deception, ambition, and identity. It's also quietly heartbreaking - a scene where Christian discloses his awful feeling of loneliness, and another where he has an emotional meltdown in a dance class, are powerful, and the film is presented very realistically and without winking to the audience.
A nice surprise to a film I've put off watching for a long time. And I've just read it won Directorial Debut at the British Independent Awards..
Daniel Parsons
Super Reviewer
Showboy Quotes
There are no approved quotes yet for this movie.