Showdown in Little Tokyo
(1991)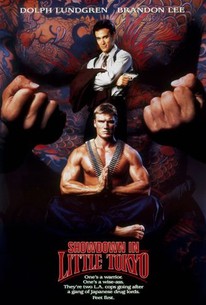 Showdown in Little Tokyo Photos
Movie Info
Director Mark L. Lester modeled this police action drama on the Hong Kong style, guaranteeing plenty of over-the-top action sequences. Dolph Lundgren stars as police detective Chris Kenner, an American raised in Japan. He is given a new partner, Johnny Murata (Brandon Lee, making his Hollywood debut), a Japanese raised in America. The two are made for each other -- Chris doesn't appreciate American culture, while Johnny doesn't much like Japanese culture. One thing they both enjoy are the martial arts, of which they are experts. The two are assigned to L.A.'s Little Tokyo, trying to nab the notorious Yoshida (Carey-Hiroyuki Tagawa), a drug manufacturer using a local brewery as his distribution center. Yoshida, a member of the Yakuza, has brought the residents of Little Tokyo to their knees. But Chris has personal reasons for wanting to get Yoshida -- as a child he witnessed Yoshida murdering his parents. When Yoshida rapes and kidnaps Minako (Tia Carrere), a beautiful lounge singer, it's the last straw and Chris and Johnny set out for Yoshida's heavily guarded home for a big showdown.
Critic Reviews for Showdown in Little Tokyo
Audience Reviews for Showdown in Little Tokyo
½
Now here we have a great action film title that does actually relate to the movies plot. The movies poster is also top notch, dare I say better than the actual movie. So once again we have the typical 80/90's buddy cop/odd couple flick, combining two characters who are supposedly polar opposites. Well hold your horses there bucko, although this movie does appear to go down that route (it does essentially), director Mark L. Lester does actually throw a twist on this overused idea. At a first glance you think you know the score. Dolph Lundgren is obviously gonna be the heavyweight, bull in a china shop, all American trigger happy cop. Whilst his partner played by Brandon Lee will be the smart, sensible, calm, mystic Asian character that shows off his invincible martial arts skills. Well the twist (I guess its a twist) here is its actually Brandon Lee's character who is the all American, trigger happy, bull in a china shop type bloke. Whilst Lundgren's character was born in America but raised in Japan and is actually a very spiritual person preferring Japanese culture. Oh and he's kickass at martial arts too, of course. In fact the only thing these two guys have in common is the fact both are highly skilled in martial arts because action flick vehicles. So the stereotypical roles have been somewhat flipped on their head. Right so what do we have then? Well you got this cop called Kenner (Lundgren) who seems to work alone and dress as he wants despite being a regular cop? Well he gets teamed up with Murata (Lee) who also wears what he likes (so I guess these guys are detectives?) and together they must bring down the evil drug kingpin Yoshida (Cary-Hiroyuki Tagawa) in Little Tokyo, LA. That's pretty much the deal here, no frills, hell the two cops meet each other during an action sequence for flips sake! We don't even get the obligatory introduction in the grumpy police Chiefs office or anything. So lets take a look at this action romp from the early 90's, a time still feeling the effects of the glorious late 80's. Lets look at protagonist number one, the main character, Kenner (Dolph). I say the main character because Brandon Lee's character is virtually a background sidekick for the most part. Yeah Lee might have been a big name on paper but in Hollywood at this time he was still small fry and this was a Dolph action flick. OK firstly, what the literal fuck is Dolph's character wearing in this movie?? Suit trousers, a vest and a black studded leather jacket on top, for the most part. Its almost as hilarious as his Japanese attire which he dons for the finale complete with bandana. Secondly, this movie calls for Dolph to speak Japanese. Now I know Lundgren is an intelligent man but Japanese just doesn't sound right coming out of his mouth with his deep tones. His character was raised in Japan and he clearly likes Japanese stuff. But just to reinforce that narrative we discover that Kenner owns a Japanese style house complete with Japanese furnishings, in the middle of nowhere. It all comes across as a bit forced ya know, OK we get it, Japanese tastes, check. In contrast we then have Brandon Lee's smart-arse Murata. Now this character is the comedic relief in the movie, he throws out quips, one-liners and jokes around at inopportune moments. He's essentially like James Belushi's character in 'Red Heat'. The problem is this character isn't really very funny and Brandon Lee isn't really very good with his comedic deliveries. I'm sure this shit may have come across way better back in the day but these days its more cringeworthy than anything. This guys only fallback is the fact he's entertaining in a scrap with his hong kong phooey. The movie flits from one shabby action set piece to another barely taking a pause for, you know...plot. No time for any interesting story or character elements, there's ass to be kicked and things to be blown up! So as you might expect this basically means endless sequences of Dolph being a one man army and shooting the shit outta every bad guy going. Lee's character is also good at shooting crap bad guys but he mainly beats them up with his chopsocky. Naturally all the bad guys are utterly useless, couldn't hit the side of a barn door that was painted shocking pink whilst stood right next to it. Even the appearance of action stalwart Al Leong didn't change anything, he came and went very quickly. The action sequences are really quite badly executed and unexciting to be honest, hell Dolph's character even lifts an entire car and flips it onto its side at one point! All this just for some cover when he didn't really need it anyway, but surely that superhuman strength could be used more often no? Not only that but this movie also suffers from terrible action flick cliches. Firstly there's the obligatory sex scene with Dolph and the damsel in distress, a very 80's looking Tia Carrere giving a very amusing sex performance. Secondly there's actually a training montage, I shit you not. A flippin' training montage where Dolph pounds a punchbag whilst looking all muscular, sweaty and pretty. The big predictable finale is unfortunately just as bad and cliched as the rest of the movie. The duo attack the drug kingpins factory headquarters with a full on assault, no stealth, just a full frontal assault, guns blazing. You do ask yourself why they didn't just do that earlier. This of course means tonnes more faceless henchmen for the duo to kill because they have their invincibility cheat mode on. The hilarious thing is this attack spills out onto the streets where, coincidentally, there's a Japanese parade going on...well blow me. What follows is just...some fantastically bad and funny shit I can tell you. Dolph's character faces off against Cary-Hiroyuki Tagawa's scowling villain. They decide to fight like men and in doing so grab swords from some of the people in the parade who are dressed in traditional Japanese period attire. But of course these swords are actually real, because people carry real lethal weapons when dressing up in costume for a street parade (ugh!). Both men fight it out to the death while all the people (men, women and children) watch in glee, no police anywhere. Of course Dolph's character wins and Tagawa's drug lord is killed horribly by being run through with a sword and then burnt to a crisp on some large fireworks Catherine wheel thing. Still no police to be seen. At the same time the people cheer and enjoy the frolics and violence, hurrah! They have no idea what's happening or why but for some reason they all cheer for the good guy Kenner, because he's the good guy. Then once the job is done the heroic duo walk off down the street with the rescued Tia Carrere whilst all the locals bow down and honour them...for some fuckin' reason. Its all so damn stupid, they have no clue what just happened or who these people are, but yeah sure lets bow down and worship them. Shall we call the police? nah! Yes this movie is a disappointment to be sure. With such a great looking poster and with a cracking title its a real shame. The main issue is really how tacky and low-rent everything looks, its not gritty either its just really average looking. The plot is painfully predictable, cliche and unoriginal, its basically a rehash of 'Lethal Weapon' (weren't they all). Despite Dolph being a big action star its still questionable as to why this actually is. Well obviously its his yuge rippling physique, lantern jaw and overall good looks, but this guy could never really act and virtually all his movies show this (he also can't run because he's clearly too heavy and wide). Lee does OK but is merely a background player showcasing his moves; whilst Cary-Hiroyuki Tagawa chews the scenery beautifully but is ultimately more silly than intimidating. A good way to see how the quality of this movie compares to other action flicks, is to simply watch Lee's following action movie 'Rapid Fire'. The step up in overall quality is plain to see with this movie. Alas this Dolph/Lee team up is a throw-away flick.
Phil Hubbs
Super Reviewer
½
[img]http://images.rottentomatoes.com/images/user/icons/icon13.gif[/img]
Directors Cat
Super Reviewer
"Gee whiz, i think there are more bad guys out there than we have bullets!"
Coxxie Mild Sauce
Super Reviewer
Showdown in Little Tokyo Quotes