Showgirls
(1995)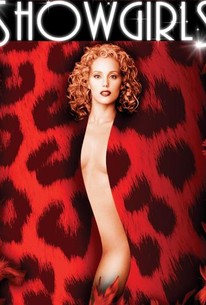 Movie Info
Nomi, an attractive drifter, arrives in Las Vegas with plans to become a dancer. Soon she gets a job stripping at one of the lesser joints on the strip, but eventually catches the eye of talent scouts who hire the performers for a big revue at a casino. She works her way into the cast, and eventually sets her sights on taking the starring role.
News & Interviews for Showgirls
Critic Reviews for Showgirls
Audience Reviews for Showgirls
Never actually saw this one before. Have to admit, kind of liked it. At first the hammy acting (intentional apparently) was a bit off putting, but as the movie went on, grew to like it and see it as the cautionary tale it was. Very over the top look at what girls running away and hoping to cash in on dancing\stripping can expect to face and how there is always someone just like them trying to steal the "fame". It's done in a very exaggerated way which people will either love or hate.
Nicki Marie
Super Reviewer
½
If Verhoeven's intention was to make a satire of Las Vegas as a place of exploitation and hypocrisy then his film is brilliant, but it does feel like he is trying to make something serious, which makes its hilarious campy vibe come off as trashy and completely unintentional.
Carlos Magalhães
Super Reviewer
"So-bad-it's-good" originated with this cult classic and camp satire, and spawned a generation that was okay with having guilty pleasures. Director Paul Verhoeven, the mastermind behind so many great, giant camp films, made a large scale, NC-17, satire on the world of the Las Vegas showgirl, but of course it wasn't meant to be funny. It wasn't meant to have critics reevaluate it years later as possibly one of the greatest films to look at the seedy underbelly of the Las Vegas scene, and the dog eat dog attitudes of those involved in it. Of course, if Verhoeven and screenwriter Joe Ezterhaus were trying to relate to their audience the empirical evilness of "Showgirls" they lost right away with the casting of Elizabeth Berkley. Most famous for the clean cut character Jessie on "Saved by the Bell," Berkley tried to shed that tired old exterior, and in the process also shed her clothes many, many times for this film. The nudity is not what anyone would find repulsive about this film, and may even be a boon for its exploitative content. What becomes annoying pretty fast is Berkley's character, Nomi, who works as a stripper at a club in Vegas, dreaming about dancing in a show. She is temperamental, loud, obnoxious, repellant, and socially awkward in every sense of the word. Berkley's performance is angry at every juncture, and there isn't a moment when you don't wish pain upon her. Critics have reformed their opinions as of late and suggest that this film is about being taken advantage of and though the outlying and supporting characters are despicable, Nomi doesn't seem sympathetic in comparison. Yes, the manager of the club is insidious, the lead is a bitch, the backers are vicious, and the competition is brutal, but Nomi is a self-centered egotist who makes her way to the top with back stabbing and violence. Every word out of her mouth sounds whiney and pathetic, and her performance never gets reared in by Verhoeven, only gone wild time and again. As an exploitation film (suggested by Tarantino) it works perfectly, blending together sex, destruction, and revenge, and for most of the film you can forgive the blatant sensationalism. It was near the end, in one of the most violent and irresponsible scenes ever, that all respect gets lost for the director's vision. It works as the climax for the film, and it's so horrible and hateful that it burns a knot in your gut at the very mention of it onscreen. That's beyond exploitation and it truly dilutes how entertaining this film can be. Nothing gets resolved in the end, and the character doesn't do anything except mouth off for the entire film. It lingers on the edge of accomplishing something, but now remains one of the worst disasters in film history, and hopefully it will remain reviled for the rest of time.
Spencer S.
Super Reviewer
Showgirls Quotes
| | |
| --- | --- |
| Nomi Malone: | I liked the way you came.. |
| Nomi Malone: | I liked the way you came. |
| | |
| --- | --- |
| James Smith: | Dancing ain't fucking |
| | |
| --- | --- |
| Tony Moss: | Come back when you fuck some of this baby fat off. See ya. |
| | |
| --- | --- |
| Molly Abrams: | She looks better than a 10 inch dick and you know it ! |
| Molly Abrams: | She looks better than a ten-inch dick and you know it! |