Shredder
(2003)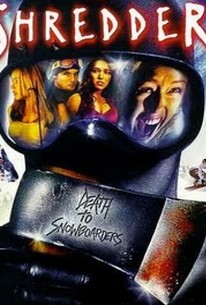 AUDIENCE SCORE
Critic Consensus: No consensus yet.
Movie Info
A group of extreme college kids head to the slopes for some cool snowboarding and hot lovin' in the straight-to-video slasher Shredder. When they break into an abandoned ski lodge for some fun in the snow, little do they know of the deadly skier patrolling the grounds. As the posted ski rules are broken left and right, that's when the killing starts and the fun begins. With the addition of a mysterious and good looking stranger among their party, the kids soon learn of the bloody past of Rocky Summit and why being a snowboarder there can be hazardous to your health.
Critic Reviews for Shredder
Audience Reviews for Shredder
In terms of Straight to DVD horror films, Shredder is a pointless Slasher film with your typical genre clichés and it has a boring, wooden cast that are plainly terrible. Shredder is a film that misses the mark and offers nothing new to the genre. I expected something decent, as it had an interesting setting, but it just fell apart due to lacking ideas, and poorly thought out moments that just don't gel together. Shredder is a film that should have been much better, and for what it is, it doesn't do anything to grab your attention, and it lacks anything memorable, entertaining or fun. Low Budget Slashers are good, but this one is awful, and if you're looking for something quite good with plenty of effective chills and awesome gore, give the Hatchet trilogy a shot, which are far more elaborate than this dull affair. Shredder is collection of clichés, and formulaic ideas and it just doesn't do anything of note to appeal to genre fans. I really wanted to enjoy this one, but overall this was a horrible film, and if you're thinking about seeing it, it's not worth it, as there are far better films in the genre than this. Skit this film, as it's just a poorly acted and directed effort with no emphasis on building actual tension, therefore the film is absolutely ridiculous, and ranks among one of the worst Straight to DVD Slasher films that I have seen in quite some time. The kill sequences are boring and predictable and the cast should have taken acting classes, as they're pretty bad here. Shredder looks and feels like a low budget film, and it has a film school vibe to it, which really doesn't help. Avoid the film if you're a horror fan, you'll be glad you did.
½
A slasher movie that could've been better, could've been worse. Somehow entertaining. Helped by a few of bloody scenes to keep fans of the genre satisfied.
A very cheesey low budget slasher.....but I still quite enjoyed it, good location for a slasher film.
Shredder Quotes
There are no approved quotes yet for this movie.