Shutter
(2004)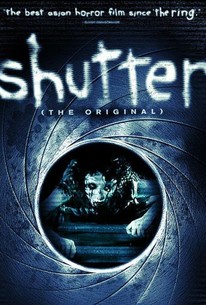 Movie Info
A shock accident on a lonely country road has terrifying repercussions for a Bangkok photographer and his frightened wife in the Thai horror sensation that chilled audiences at the Gérardmer and Bangkok International film festivals. Distracted during a late-night drive down a long stretch of country road, Tun accidentally runs down a pedestrian who seemed to have materialized out of thin air. Though Tun and his wife, Jane, attempt to relinquish themselves of responsibility by fleeing the scene and hastily returning to Bangkok, it seems as if someone or something is intent on ensuring that they don't forget their moonlit transgression. When Tun begins to see spectral figures in the images he snaps and Jane finds her dreams taking an unusually dark turn, the pair immediately decides to return to the scene of the accident to find out what became of their hit-and-run victim. Strangely, upon investigating the accident it begins to appear as if there has been no report of the accident and no victim to speak of. Upon returning to Bangkok, Tun's friends begin dying at an alarming rate, leaving the pair desperate to unravel the murderous mystery before it consumes them body and soul.
Critic Reviews for Shutter
Audience Reviews for Shutter
Had quite big expectations of this film and although it was and enjoyable film, it doesn?t bring anything new to Asian Horror or the Horror genre in general. I also have the remake and it?ll be interesting to compare the two, once I have watched.
Lady D'arbanville
Super Reviewer
A swing and a miss! Completely derivative horse shit. Cool ending, though, and surprisingly solid performances. Too bad it isn't scary, relying heavily on audio cues (some of which are shockingly misused) and falling back on the old, now unscary Asian girl ghost crutch. Shutter is poorly lit and cheap-looking, further undermining the already heavy attempts at creating atmosphere. After seeing something like REC, the amateurish direction behind something like this really shows. Also, Tun is a prick. Completely avoidable. For all the talk of how it was going to put Thai horror on the map, it sure didn't make much of a splash...and for good reason.
Drew Smith
Super Reviewer
Best watched at night with the lights down to get the full effect. There are images here that can SCARE even the most hardened of viewers. Too bad the story is totally ludicrous and unoriginal, otherwise this would have been a great horror movie.
Edward Boxler
Super Reviewer
Shutter Quotes
| | |
| --- | --- |
| Natre: | "ton you fat cunt, get me a pizza bread slice. That's way too much cheese", "shut up your face slut" - in bangladeshi of course |
| Natre: | Shut up your face, slut. |