Sicko
(2007)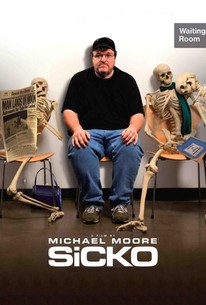 TOMATOMETER
AUDIENCE SCORE
Critic Consensus: Driven by Michael Moore's sincere humanism, Sicko is a devastating, convincing, and very entertaining documentary about the state of America's health care.
Movie Info
Acclaimed filmmaker Michael Moore sets out to investigate the American healthcare system. Sticking to his tried-and-true one-man approach, Moore sheds light on the complicated medical affairs of individuals and local communities.
News & Interviews for Sicko
Audience Reviews for Sicko
Of all the documentaries directed by Michael Moore, I felt that Sicko was one of his more lazy efforts. Though the film tackles another important subject matter, I really didn't think that much about the film. I thought it was entertaining, but compared other documentaries that Michael Moore has directed, Sicko is my least favorite. I enjoyed the film, but I also felt that Michael Moore was showing signs of running out of things to say with his documentaries. I felt Sicko navigated the usual territory that Michael Moore travels through. The film definitely is entertaining and exposes yet another important issue, however compared to Fahrenheit 9/11 or Bowling for Columbine, this documentary isn't that great. I much preferred Moore's other documentaries. Sicko tackles the American health care system, and though it's an interesting documentary, I felt there was something missing. The film definitely showed us the realities of the American health care system.Sicko is entertaining, funny and sad at times. The film criticizes the health care system of America, and Moore outlines his points perfectly. However at the same time, it's clear that Michael Moore is running out of ideas How far can you take the criticism that everything that is the USA? I personally feel Moore has explored every bit of the subject matter. Sicko is worth watching, but is not as engaging as his previous works.
Very interesting look into the world of the American health care. Michael Moore is very convincing but that's kind of the problem as if he stating his opinion or is what he's saying true?
Sophie Burgess
Super Reviewer
½
Shocking to say the least. Once again, Michael Moore makes me happy I'm not an American citizen. It's truly sad to see that the wealthiest country in the world treats it people like disposable garbage. Not quite as good and enjoyable as Moore's previous films, but still a very touching and relevant documentary that I think everyone should see (especially members of the American government). Even though Moore may not be entirely objective, he makes some very good points that we can all relate to. This movie is definitely going to arouse a lot of debate and hopefully it will make a change for the better.
Sicko Quotes
There are no approved quotes yet for this movie.