Side by Side
(2012)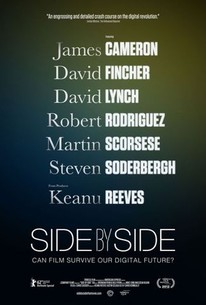 TOMATOMETER
AUDIENCE SCORE
Critic Consensus: Keanu Reeves proves a groovy guide through this informative exploration of how technology is transforming cinema, with an even-handed defense for both the old and the new.
Movie Info
Join Keanu Reeves on a tour of the past and the future of filmmaking in Side by Side. Since the invention of cinema, the standard format for recording moving images has been film. Over the past two decades, a new form of digital filmmaking has emerged, creating a groundbreaking evolution in the medium. Reeves explores the development of cinema and the impact of digital filmmaking via in-depth interviews with Hollywood masters, such as James Cameron, David Fincher, David Lynch, Martin Scorsese, Steven Soderbergh, and many more. -- (C) Tribeca
Critic Reviews for Side by Side
Audience Reviews for Side by Side
Side by Side explores the question of film's worth in an increasingly digital future. It all boils down to the simple fact that even if the format changes, the medium is only as good as the artist's ability to manipulate it to tell a story. Some filmmakers swear by film. Others by digital. But ultimately, it's the quality of the work that matters. A great documentary.
Edward Boxler
Super Reviewer
Insightful all the way through, "Side By Side" is a great documentary, filled with tons of well-known celebrities as they talk about their thoughts on the conversion from digital filmmaking and the future of the industry. There are times, although they are different opinions, that the same thing is repeated, because there is only so much you can have an opinion on about this. Let's face it, old-fashioned filmmaking, and things of the like, will inevitably die out within the next decade, and probably sooner. Most directors believe this to be the end of cinema, but I believe we are in a rut that will take a while to get out of, because we are having trouble finding the absolute best talent out there, or just settling for middle of the road. This was very interesting to watch, due to the classic directors speaking their minds on the matter, but truthfully, once they are gone, film will be dumber and dumber. So yes I am scared for the industry, because film has such a huge impact on society, but the world goes how it goes, and sometimes it is not controllable. To me, that is what this film's message really was. I really loved watching "Side By Side," and I highly recommend fans of any genre of film to watch this.
½
Keanu Reeves brings together a boatload of Hollywood's finest to discuss the physical and ideological issues facing cinema. It may try to force too much information into too little time if you don't know about the history and technology of film, but this documentary romanticizes the art with such passion and finesse that it stands as a reaffirmation of the power of movies and the importance of understanding their history and possible future.
Sam Barnett
Super Reviewer
Side by Side Quotes
There are no approved quotes yet for this movie.