Side Street
(1950)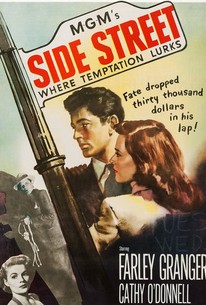 Movie Info
Farley Granger plays a casually larcenous New York City mailman who steals a shipment of money. Granger's excitement over this windfall turns to terror when he discovers that the money was part of a transaction between gangsters. Harassed by both crooks and cops, Granger lives to regret his impulsive theft--especially when it is tied in with a murder. The story is wrapped up in spectacular fashion with a climactic car chase. Farley Granger's costar in Side Street is Cathy O'Donnell; both were on loan to MGM from Samuel Goldwyn, and both were banking on their previous successful teaming in RKO's They Live By Night.
Critic Reviews for Side Street
Audience Reviews for Side Street
½
Solid noir features excellent NYC locations and a unique car chase sequence.
Bob Stinson
Super Reviewer
½
One of Anthony Mann's last and great film noir pieces that seems to borrow quite a bit from Naked City. Mann's direction overshadows the just there performances by Farley Granger, Cathy O'Donnell and the rest of the cast. Mann sets up some spectacular shots of late 40s New York City. The uneven and bouncy script start to take away from Side Street until that final brilliant car chase (which ultimately won me over) goes down. Great opening titles too.
Michael Gildea
Super Reviewer
Anthony man delivers a great noir starring Farley Granger. Great Early Car Chase
Ken Stachnik
Super Reviewer
Side Street Quotes
There are no approved quotes yet for this movie.