Sidewalk Stories
(1989)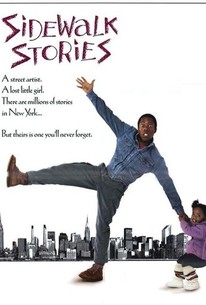 Movie Info
A young artist living in New York, tries to make a living sketching passers-by on the street. He survives on his meager means and has found refuge in an abandoned building. One night, on the corner of a back alley, he finds a little girl whose father has just been murdered. While struggling to take care of her, he meets a young rich woman who immediately falls in love with this awkward couple. Twenty years before The Artist, Sidewalk Stories portrays the friendship of a tramp and a child, in a moving and funny homage to Chaplin's The Kid. Both witty and tender, Charles Lane's gorgeous black and white comedy pays tribute to the silent film era, as well as capturing the life of homeless New Yorkers.
Critic Reviews for Sidewalk Stories
Audience Reviews for Sidewalk Stories
While there is rioting happening over a taxi on Wall Street, things are much more peaceful a couple miles north as a homeless street artist(Charles Lane, who also wrote and directed) plies his trade while waiting for the IFC Center to open. As he observes the world going by, he also witnesses a brutal murder in an alley. During which, he shields an infant girl(Nicole Alysia) from danger. First off, I applaud Charles Lane trying to do something different by doing something retro where he gives the homeless characters the only spoken words of "Sidewalk Stories." And I am always a sucker for views of a bygone New York City, in this case, from a movie made in 1989. However, there is also the sad irony of a film steeped in realism having a story, especially involving one incident, that does not really ring true at the same time.
Sidewalk Stories Quotes
| | |
| --- | --- |
| Homeless Raver: | Anybody got a quarter? A nickel? A dime? You know what it's like to be homeless? |