The Signal
(2008)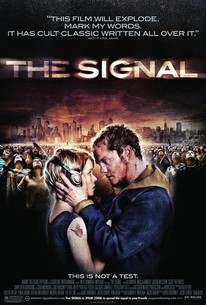 TOMATOMETER
AUDIENCE SCORE
Critic Consensus: The Signal is gruesome, funny, and has big thoughts about society, but those disparate elements fail to come together convincingly.
Movie Info
As glasses are raised for a New Year's Eve toast, the denizens of the city of Terminus fall prey to a mysterious transmission that pulses through all electronic devices and transforms rational, sane people into murderous, rampaging psychopaths. All forms of communication have been jammed, and now the airwaves have been saturated with an ominous signal that preys on fear and deep-rooted desire. Though Terminus was once a city defined by conformity, any semblance of order in this concrete jungle has now been replaced with screaming, bloody chaos. Fortunately, Ben has managed to avoid having his brain scrambled by the signal, and now he's determined to make his way through the bedlam that's sweeping the streets and rescue the woman he loves. It's not going to be an easy task, though, and in order to sweep his love to safety, Ben will first have to face off against her rabid husband. In a city where everyone seems to have lost their mind, the only way Ben will be able to determine who he can trust and who has given in to their bloodlust is to find out the true origins of this ominous broadcast.
News & Interviews for The Signal
Critic Reviews for The Signal
Audience Reviews for The Signal
½
[img]http://images.rottentomatoes.com/images/user/icons/icon14.gif[/img]
Directors Cat
Super Reviewer
½
The Signal is a decent horror flick that had the potential of being a great film. The problem with this film is that it starts off promising enough, but halfway through it loses its strength, and becomes a decent flick. What could have been an effective horror flick is brought down by a weak second half. The film is watchable, but it could have been reworked a bit because there are some good ideas on-screen. The films cast do a pretty decent job here, and the plot is pretty interesting as well. The films faults lie in the second half of the film where it falls apart. I think it'\s a shame because this could have been a memorable horror flick with an effective plot. Unfortunately, The Signal leaves you wanting a bit more from the story, and as a horror film. This is a low-budget psycho Slasher film that almost gets it right. The script was good, but like I previously stated, if only there could have been a bit more effort put into the second half, it would have made The Signal a much more memorable ride. There are some elements that work well, but most of them don't quite get there. However you do see the potential of a very good horror film here, it's just too bad that some ideas fell flat. Overall a decent horror flick that is worth watching, but it leaves a lot to be desired as well. For a low-budget film, this is a decent try; if only the script would have been reworked a bit, then The Signal would have been a terrific film.
One of those movies where things only occur because the script says so, with a total abandon of logic and plot. Sometimes seeing the signal makes you crazy...sometimes it doesn't. Sometimes people die from multiple blows to the head...sometimes they don't. Sometimes the entire world (or at least city) is consumed by the madness...other times people don't seem to understand that their is utter anarchy in the streets. Sometimes a canister of pesticide will make you blind, other times it just makes your eyes sting for a moment or two. Sometimes it's a comedy, sometimes its a drama and other times it's a horror flick. The constantly shifting perspective completely kills all attempts to build tension and the characters are all down right stupid. Why am I supposed to care about a bunch of adolescent adults acting like children? The female love interest in particular is the worst kind of heroine cliche. Now I will give the filmmakers props for making a movie that looks descent in 13 days for $50k, but SHAME on them for going forward with this script. The Signal could have been really good, but instead it just ends up becoming a crapticopia of tedious nonsense.
Ken Stachnik
Super Reviewer
The Signal Quotes
There are no approved quotes yet for this movie.