Silent Night, Deadly Night 4: Initiation
(1990)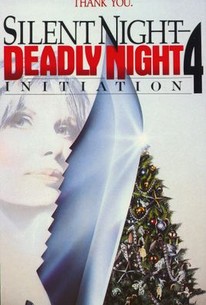 AUDIENCE SCORE
Critic Consensus: No consensus yet.
Silent Night, Deadly Night 4: Initiation Photos
Movie Info
In this horror film, the murderous Ricky returns under the control of a cult of demon-possessed women, who use the killer for their own evil means.
Critic Reviews for Silent Night, Deadly Night 4: Initiation
Audience Reviews for Silent Night, Deadly Night 4: Initiation
Fourth film in this series omits the killer Santa which made this series infamous. This is yet another awful entry, and in seems the series keeps on going, the more awful the films become. This is yet another bad sequel to a series that never should have happened. This film is a misfire and ends up feeling tedious. This fourth entry shows us one thing, the lack of an effective idea that could make up a good horror film. This is a poorly constructed affair that just doesn't deliver. This is just a waste of time with nothing new to offer viewers. It's all the same bad ideas we've seen in the previous two entries, and it just falls flat. Brian Yuzna's directing is mundane and flawed. This film just doesn't have anything interesting going on to make it worth watching. The actors look bored an uninterested in doing the film, and the dialogue is cheesy, stupid and pointless. Even by Slasher film standards, this one is pretty bad. The story just doesn't have any substance. This is yet another unnecessary sequel to a Slasher film that didn't need sequels. If you're a diehard fan of the films, this one may appeal to you, but for the common Slasher fan, pass up on this, as it offers nothing new or original to the story of the series, thus it's one that should be avoided due to a bad plot, bad acting, directing and poor production values. This one is just a lazy horror film that fails to deliver good old fashioned entertainment.
½
As I watched this movie, I was baffled as why this film was in the Silent Night series. This movie was not scary at all, but was somewhat entertaining. The actors were okay. Clint Howard (House of the Dead) and Reggie Bannister (Phantasm) were the biggest names in this film, but otherwise the rest are pretty much unknown. Director Brian Yuzna (The Dentist) lacks the appropriate Christmas scenery, which would add to the film's intensity and horror. The movie seemed like Rosemary's Baby, with the occult, rape, and sacrificing scenes. Also those giant worm things were NASTY! This movie lacks some things, but it passes on okay
Cassandra Maples
Super Reviewer
Silent Night, Deadly Night 4: Initiation Quotes
There are no approved quotes yet for this movie.