Silent Rage
(1982)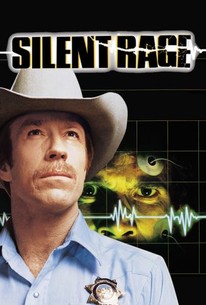 Movie Info
The sheriff of a small Texas town is pitted against a genetically engineered super-villain.
Critic Reviews for Silent Rage
All Critics (5) | Fresh (4) | Rotten (1) | DVD (2)
Silent Rage emerges as one of the more interesting chillers of the year.
Imagine Chuck Norris squaring off against Frankenstein's monster and you've got a pretty great idea of what you're in for.
Audience Reviews for Silent Rage
Another title of this movie could be "Chuck Norris vs. Michael Myers". Chuck is a small town sheriff who tangles with a psychotic killer, only to watch him be fatally gunned down by his deputies. At the hospital, the killer is saved by an unscrupulous doctor that injects the man with an experimental chemical that causes any wounds to instantly heal, basically making him unstoppable. This makes a great cross between action and horror, as only the 80's could deliver. There are, of course, the token scenes of Chuck strutting his martial arts prowess, this time all over a bar full of bikers, and during his subsequent confrontations with the killer. What adds to the movie is a surprisingly solid performance by Norris, not known for being anything but monotone. Nothing award winning mind you, but strong enough to make his character seem like an actual person. Animal House's Stephen Furst plays Chuck's deputy, and milks the fat guy charm for all it's worth. Ron Silver gives a strong performance as the psychiatrist who knows more than he wants to about what is keeping the killer alive. Steven Keats is perfectly slimy as the glory hungry doctor that creates the killing monstrosity. When it comes to action and horror movies, there's nothing like the 80's. Both genres were in their prime. Horror movies were gory, and action heroes were tough. This is a good meeting of the minds, and for me, one of Chuck Norris' best.
RJ MacReady
Super Reviewer
Terrific ode to martial arts movies and Halloween.
Tim Salmons
Super Reviewer
Cool barroom brawl scene where Chuck Norris singlehandedly takes on a gang of overweight bikers and good tough fight scene against a psychotic killer.
Dean McKenna
Super Reviewer
Silent Rage Quotes
There are no approved quotes yet for this movie.