Silkwood
(1983)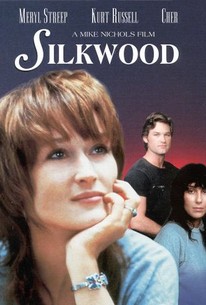 Movie Info
Based on a true story, Silkwood begins and ends with Karen Silkwood (Meryl Streep) driving along a lonely road in 1974, heading to a meeting with a New York Times reporter to deliver evidence of negligence at the Kerr-McGee Plant in Cimarron, Oklahoma. The balance of the film flashes back to Karen's ribald private life with her lover (Kurt Russell) and her loose-living friends (Cher and Diana Scarwid). This is in contrast to her humdrum job at Kerr-McGee--or it least it was humdrum until Karen and several other employees become contaminated by radiation. The higher-ups want to sweep this incident under the rug, but Karen thinks that something's fishy, and informs the union of that fact. X-rays of the faulty fuel rods and written proof of the inadequate safety measures that caused Karen's illness are tampered with, forcing Karen to conduct her own private investigation. As she gathers evidence, Karen becomes a pariah to her boyfriend because of her obsession. She finally organizes the evidence into a briefcase, and heads off to her meeting with the Times reporter. She never makes it; the "official" report on her fatal auto accident is that Ms. Silkwood had been drinking and was under the influence of tranquilizers. Kerr-McGee was eventually forced to pay the Silkwood family an enormous settlement because of her contamination, but the full facts behind her convenient accident have never been revealed (though the filmmakers clearly indictate whom they hold responsible). Director Mike Nichols and screenwriters Nora Ephron and Alice Arlen surround this true story with a lively, improvisational atmosphere that gets the best out of Streep, Russell, and Cher, while providing perhaps the fullest on-screen realization of Nichols' theater-based techniques of realistic, character-centered, dialogue-driven filmmaking, as well as one of the first movie screenplays from future director Ephron.
Critic Reviews for Silkwood
Audience Reviews for Silkwood
"Silkwood" may not be particularly suspenseful, but its portrayal of extraordinary bravery from an ordinary woman does leave an impression. Tons of young, budding stars fill out the cast although their full range of skills has yet to develop. That having been said, it's the best bit of acting I can recall seeing from Kurt Russell. Cher's complete lack of glamour or pretense struck me as unusually authentic. It's worth seeing if for no other reason than reminding yourself how little things seem to change over the years.
Christian C
Super Reviewer
½
Silkwood felt kind of preachy and also hippie at the same time, but Meryl Streep is a pretty magnetic actress, and she pulls us through.
Jennifer Xu
Super Reviewer
All I knew about it was its tagline (besides its IMDb Rating) before going for it. Tagline: On November 13, 1974, Karen Silkwood, an employee of a nuclear facility, left to meet with a reporter from the New York Times. She never got there. I misinterpreted "She never got there." as "She went missing." What I thought would be the beginning of the movie was the end of the movie!!! And it was quite a job to sit all through to the end. The wikipedia page on Karen Silkwood was rather more interesting (especially the last para under 'Estate of Karen Silkwood v. Kerr-McGee' section. Talk about conspiracy theories!!!) than the movie (something that I also felt about 'The Elephant Man', but 'The Elephant Man' was still better than this... way better). No, I wasn't looking for big time action with blasts & explosions (mind you that 'North Country', one of my favorites, didn't have much action either) that I ended up being disappointed. But I wasn't looking for such a slow & dull story-telling either. The performances by almost everyone, specifically Meryl Streep & Kurt Russell, were great but not enough to save me from the ample amount of boredom that the movie tends to generate.
familiar stranger
Super Reviewer
Silkwood Quotes
There are no approved quotes yet for this movie.