Murder at the Baskervilles (Silver Blaze)
(1937)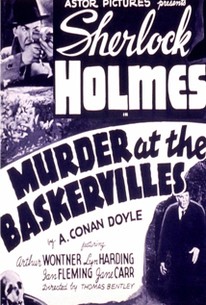 AUDIENCE SCORE
Critic Consensus: No consensus yet.
Murder at the Baskervilles (Silver Blaze) Photos
Movie Info
In this Sherlock Holmes mystery, the great detective and Dr. Watson must look into the puzzling theft of a valuable race horse that resulted in the murder of the groom.
Critic Reviews for Murder at the Baskervilles (Silver Blaze)
Audience Reviews for Murder at the Baskervilles (Silver Blaze)
The video quality was pretty bad on this one. Often the bright white parts of the image including characters' faces were glaring so much you couldn't make out what was happening. I thought the US title being changed to Murder at the Baskervilles was a cheap way of trying to get more profit out of an audience's assumed association with the more famous Sherlock Holmes mystery Hound of the Baskervilles. This mystery was not nearly on the same level. Holmes and Watson and the other familiar characters are again pushed into the 1930's with the dress and technology expected of that time rather than recreating Arthur Conan Doyle's London of the 1880s-1900s. The acting is not as strong. The viewing audience is not given the chance to share in Holmes' observations, but instead theories pop out of Holmes' head seemingly whenever he wishes to cause a look of confusion and awe on the faces of his colleagues. The script was not very thrilling or well constructed. The focus was very much on attempting to show humorous exchanges between the clueless Lestrade and a condescending Holmes. Also Holmes appears to be a conspiracy theorist more in this story by the way he talks about a Moriarty that no one believes exists.
Byron Brubaker
Super Reviewer
I'm not a fan of Sherlock Holmes, but I'm watching 30s movies so I thought I'd give it a try. It didn't surprise me or encourage me to like Holmes, it was a routine mystery movie. I don't recommend this one.
Murder at the Baskervilles (Silver Blaze) Quotes
There are no approved quotes yet for this movie.